Joined

Jun 10, 2022
Messages

23
So as my build progresses I figure I should make a thread documenting the progression on the build. the truck started its life as a 2000 Tacoma V-6 4x4 5-speed and this is what its become. The whole purpose of the build was to make it look like a spacer lifted Tacoma, I didn't want fiberglass, donkey wheels, or anything that makes it stand out. In fact I wish I never put the dumb roof rack on and it needs to be removed soon.
Front suspension
-1" wider control arms (not available for purchase) that are derived from a special project we had here at TC that needed to fit inside a CH-47 (Chinook) helicopter.
-2.5" Fox coilover, 2.5" Fox 2-tube bypass, 2.0" x 1.5" Fox hydraulic bump stops all tuned by myself and Carl @shocktalk
-15" Toyota wheels from an 89-95 4x4 with custom center caps
-lower uniball conversion
-Custom 1" wider axles using the 00-06 Tundra inner CV joint
-TC heim steering
-all front suspension components that contact polyurethane have been coated with Teflon®
-Front travel 10"
Rear suspension
- F-67 Deavers that have been disassembled, stripped, and Teflon® coated to reduce friction. I also added Delrin leaf liners between every leaf to reduce friction.
- 12" shackles over the frame (also Teflon® coated)
-all rear suspension components that contact polyurethane have been coated with Teflon®
- custom shock mounts/towers that mount 2.5 x 16" Fox internal bypass shocks all under the bed using the same Tacoma Billet upper mount as the OE Fox coilovers.
- Jegs late 1960s Chevy truck 3" tubbed wheel wells
-rear travel 17"
Misc
-33x10.5 R15 BFG All Terrains
-Baja RS seats
-hidden race radio
-3 XL 80s on the front bumper
-working on an electronically disconnect able sway-bar project.
Pictures to follow and will update as more progress is made.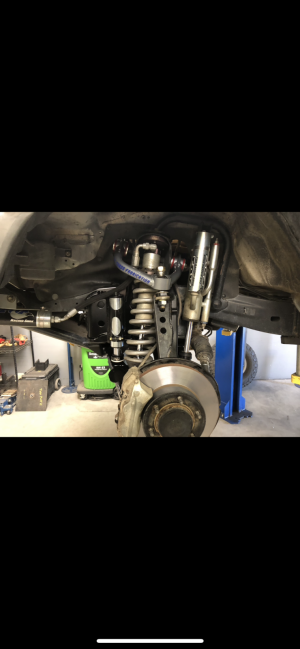 Last edited: