Joined

Jul 24, 2022
Messages

8
My name is Noah i am also known as RadoNoah
Truck Information
Model:
2007 Chevy Silverado Classic 4wd Z71
Engine:
5.3 L59
Transmission:
4L80e W/ 2800 stall Cicle D Converter and Trucool 40k Transmission cooler
Body/Exterior:
Extended Cab Short Bed
Suspension:
Front: JD Fabrication 4wd gen 1 Long travel kit, Carbon 2.5x10 Coilovers and 2.0x2 bumps
Rear: 9.5" SF 14 bolt, Deaver F87, CWF Shackles and hangers, Bilstein 5100's
Exhaust:
Speed Engineering 1" 7/8 Long tube headers, catless Y pipe and Magnaflow dumped before axle
Wheels/Tires:
17" Method Double standards custom powdered purple on 35x12.5 Toyo MT's
Electrical/Lighting:
All bulbs converted to LED, All on mod. Rigid 28" Combo bar, 30" Midnight pro, 2 spot pods up front, 2 Flood pods, Rear facing amber and SR-Q Reverse lights
Sound system:
Pioneer AVH-200 deck, 600w Diamond audio 4 channel amp powering 2 DES 6x9's up front and 2 5.25 in the rear, Cerwin Vega 1000w amp powering Diamond shallow 12"
Performance:
Full bolt on's and 91 tune by Aaron at All Out Tuning
Build: As of July 24 2022
The day I got it 5/17/18
Truck had a exhaust leak from in between the manifolds and y pipe, I've always wanted long tube headers so decided that this was the time. Did the headers and got it tuned. completely changed the way the truck drove for the better.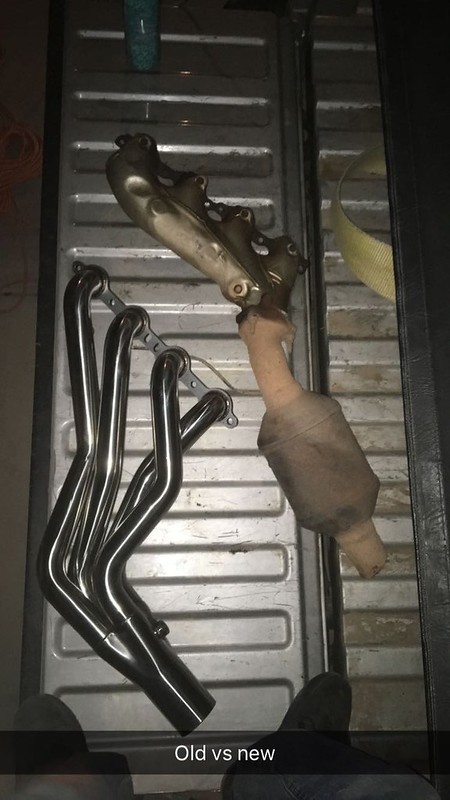 This is where things really start hitting the fan, went for a quick impromptu night wheeling trip with friends. Truck was running great so much more fun with tune and trans tune till I decieded to rip some doughnuts. I slowly watched my oil pressure drop from a good 45 to 0 real quick. shut it off, checked to see and i was good on oil level. started it up and no oil pressure. flat towed it home, washed it off and started ripping the motor out.
Decided to get a stock crate 5.3 straight from GM,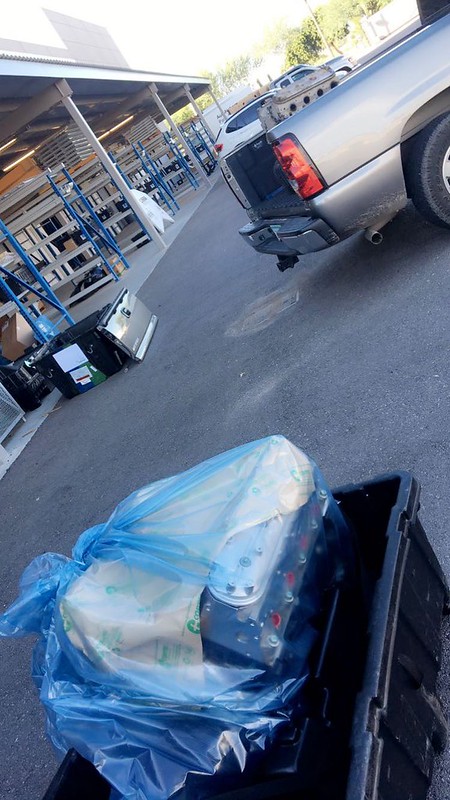 Back up and running, put the rough country 3" blocks in since it didnt have the factory 2" when i bought it. Still could not get the leveling keys in (crusted in place). Got my new toyo tires mounted and balanced on the methods.
I
Went out on another late night desert runs...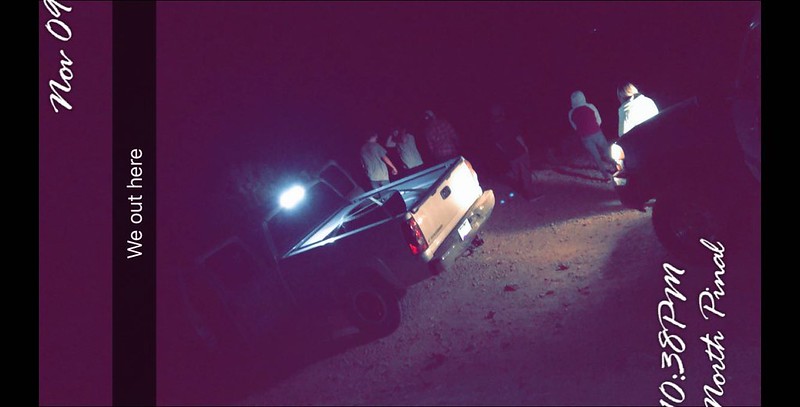 Made it around the whole planned loop of box canyon, probably a 2 hour trip through some desert and some rocky stuff. Got on the exit road and got a little over confident. Then disaster struck, thankfully everyone riding with me was ok. I underestimated a turn coming in way too hot. panic braked locking up the front tires, at full steering lock did nothing but kept me sliding foward, gassed it at the last second to keep us from wrapping it around a power line pull but still clipped a tree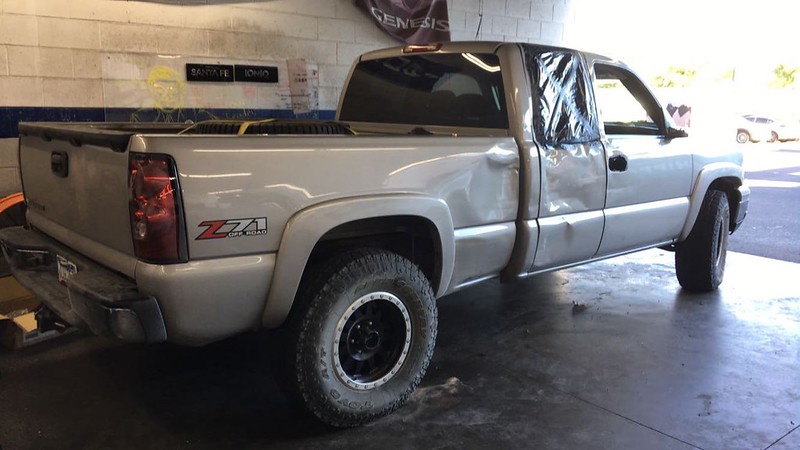 The axle housing had the tube pulled out on the passenger side, causing the truck to dog walk, so that was one of the first things on the agenda to get fixed. A buddy had a housing that he swapped all the gears out of when he blew up his diff. so we got my gears into that housing, swapped my brakes over and threw it in.
Everyone signed the rear door, like a hs yearbook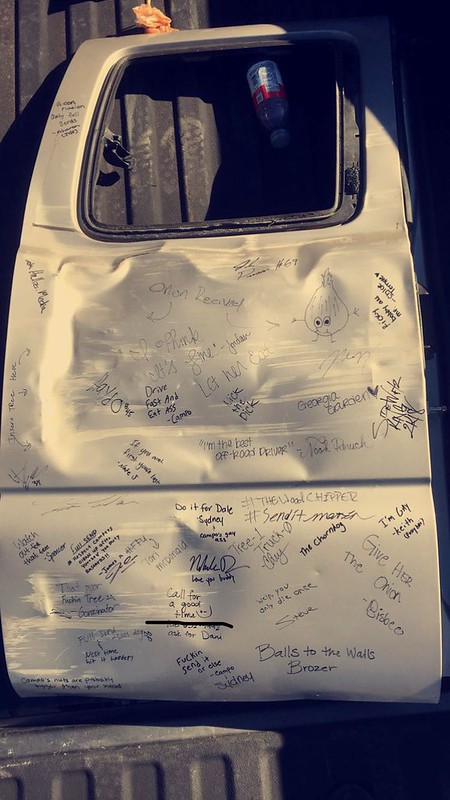 Found a bed on Facebook market place for $500 that was the same color.
I
Found some doors at a junkyard the same color off a GMC, took it to a bodyshop to get them hung because the mounts were slightly tweaked
I
Finally got the rusted keys out and the leveling ones in and it sits better.
Mazzulla Rear bumper
After 2 smoked 4L60's it was time for a 80 swap
Little jump
Then smoked another 10 bolt so swapped in a sf 14 bolt out of a late 90's "heavy halfton"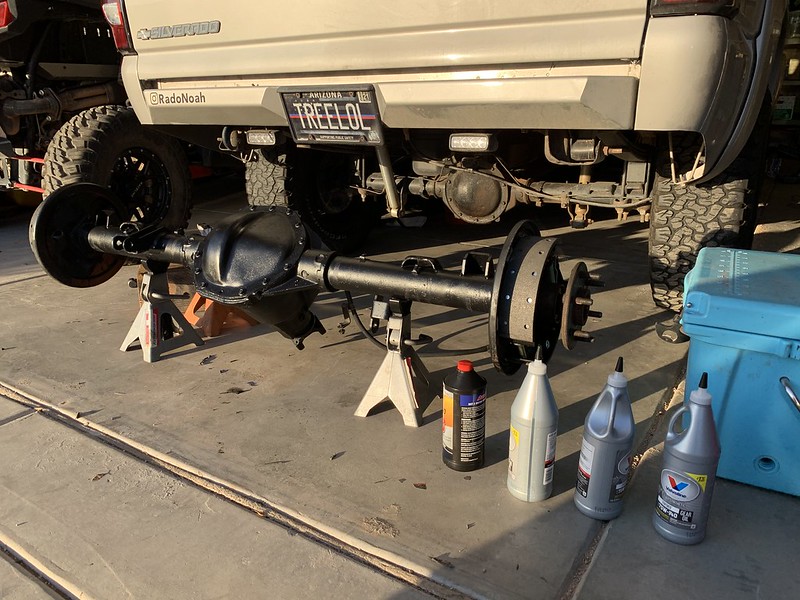 Glamis with fresh rubber and a splash of purple
Last edited: