Ok so back in high school after I built my first couple trucks I became friends with Allison. She got a 92 ranger roller with a cage that we were told was built by Nate from Blitzkrieg. So she had a k5 Blazer with a 383 stroker but wanted to be cool like all of us with these prerunners. So we started building this truck in her backyard behind the garage, because that's where the dad's cherry boss 302 mustang lived, so no work to be done in there. She got threat D44 end equal length beams. Mounted up the 383 and th400. I cemented in a receiver tube into ground in her backyard brought my bender over and started on the engine cage. Remember this was back in 2004/5 so standard stuff. 1-3/4 Dom cage. 2.5 Co and BP up front. Got that all wrapped up. Than started on the rear. Got a junkyard 9" from a friend who worked at junkyard. Copied Blitzkrieg rear link geometry since another friend had a ranger I installed the BMS links into because I co-drove it when we raced. So got bedcage done with the stock frame and bedcage. The truck worked good with the simple cage, v8 35s and 2.5 shocks. Also I built this truck with her in exchange for McDonald's Big Mac Monday's and BBQs. But as we grow older she graduated cal poly and got a good job and started obtaining bigger and better parts. So now it's in my shop for a rebuild to fit these bigger better parts.
I have no photos of it outside my shop but it's on my lift now getting rebuilt
Currently the truck has a built 6.0l LS and th400. She got some beefy Tig welded 55" H&M links, a dirt tech floater, sway bar saw 3.0 co and king 4.0 bp. So I'm chopping all the old link mounts to get the rearend swinging good with the new stuff. Truck also ran modified factory ranger 2 piece driveshaft but motor is moved back a lot so going to go with a beefy 1 piece driveshaft now. I was going to try and keep most of the existing bedcage BUT there's so much wrong a d things that I need to move it will be much easier and better end product if I just re backhalf the truck.
How it was when she brought it home.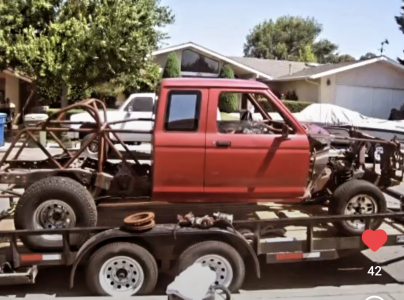 The start of the rebuild. Chopping old link mounts off. Also this thing was a 3 link because Camburg said rangers had to be a 3 link and they said it had to be a 3 link or it would bind.