Joined

Mar 30, 2022
Messages

592
Welp, With the growing family a few years back. It became apparent that The Mouse (
https://badlinesgoodtimes.xenforo.cloud/threads/toyotally-awesome-94-pickup.6/
) wasn't going to fit the squad. Going over all the options in my head changing my mind 300 times. Talking about building Tacoma, getting a full-size. Doing a solid axle swap on Tacoma.. getting a 1st gen 4runnner... kept popping up...
Sometime last year I was talking with my buddy Sean at Empire Fab about the 4 runner that he's had forever. I told him I was interested. The thing was sweet, super clean body, elockers, HD axles, the only thing it didn't have any drive train or interior. No problem I've got the 3RZ chilling in the garage out of
@sdecurti
4runner.Quick motor swap/ score some interior this thing will be on the road in no time.... A few months went by and the reality of I have minimal free time to work on the trucks I already have set in for me. #dadlyfe Bummed I called my buddy back and told him I was scared and just didn't have time to take something like this beauty on.
I needed something that was running/driving. So facebook marketplace I went. After multiple failed attempts to purchase vehicles, finally in beautiful Pamona, CA this bad by popped up. I hit the dude up he responded in a few mins. Loaded the squad in the car and headed down to take a look.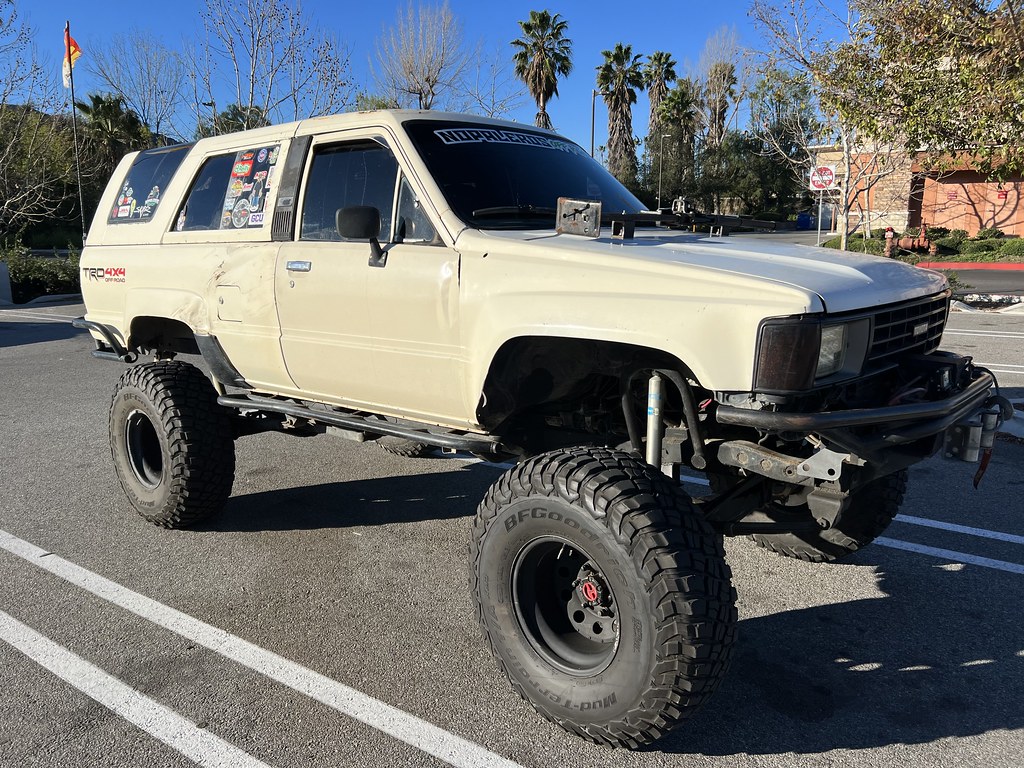 not sure if it was all the stickers that sold me or what but.....
Cruised 70 mph all the way back home no issues.
1987 Toyota 4Runner SR5 333,000 on the truck
22re 100k give or take a few 100,000
Trail Gear Solid Axle Swap
Allpro lift springs 4''
Body lift 3'' ( i think)
Bilstein 5100
High steer
Ifs locking hubs
BFG KM3s 35''
Trail gear springs
4.88s with v6 diffs
Rear Detroit locker
Trail Gear front Bumper
Trail Gear Sliders
Trail Gear rear bumper
Bad Lands winch
Rock lights
some Leds on the front bumper
Half doors and a bimini top
Fresh radiator, Alternator, brake master cyl.
2 12'' subs
Last edited: