My kids wanted to do a last minute day trip on Sunday to California City with their trucks. I'm so happy that my boys still like to hangout with Mom and Dad.
Quick back story. My kids have been riding dirt bikes in the desert since they were 3. Every Thanksgiving we would camp out in California City. But I gave up the dirt bikes about 4 years ago. With that I ended up giving my kids our 20' camping trailer in 2020 since they were more into it and I never used the trailer anymore. Unfortunately the trailer was stolen out of storage this past January. So this might be the first Thanksgiving camping trip they've missed in 17 years.
Both kids wanted to try their trucks in the desert since upgrading them.
The trucks.
The 19 yr olds is a 2012 GMC Sierra with 6.2 V8. In March he did a 3" spindle lift with King 2.5 remote reservoir with adjusters. All installed by him. 34.5" BFG's on Methods. Back is stock but with King remote resi piggybacks.
The 22 yr olds. is a 04 Ranger. Has BTF basic long travel with Kings in the front. Done by The Fab Lab. Rear is street pack Deavers with Kartek hangers and King bypasses.
Rear bed cage and suspension setup was done in February by The Fab Lab.
So we started at the pizza spot on California City Blvd. and ran dirt all the way to Randsburg. Then took the streets to Trona Pinnacles. Ran the streets back to Randsburg and then all dirt back to the center of California City. It was my 19 yr old and his mom in his truck. And me and my older kid in his Ranger.
Coming up with a game plan.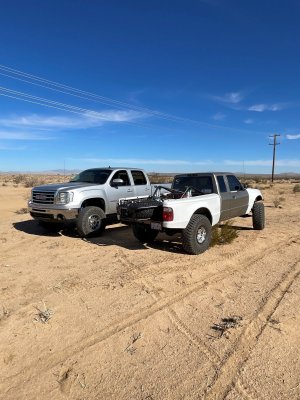 Once we started going we soon realized that the kids GMC needed to be stiffened up. So a few clicks on the adjusters seemed to help some.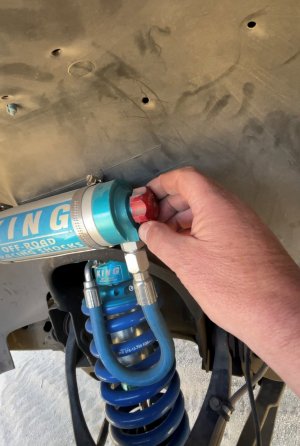 But soon we found out that his GMC wasn't the best in any kind of whoops. So he stuck to the smoother roads while the myself and the older kid ran the trails on the side. Let me tell you. The younger boy did really enjoy that 6.2 on those roads.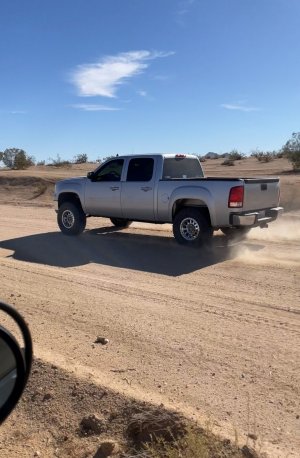 We made it to Randsburg.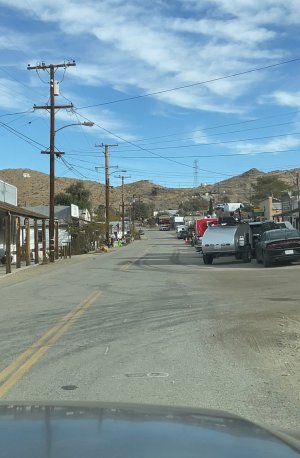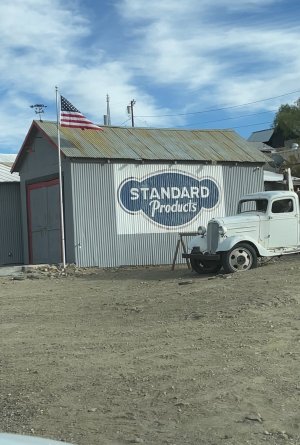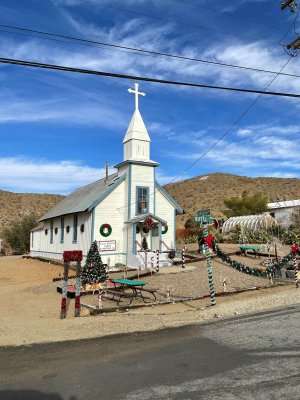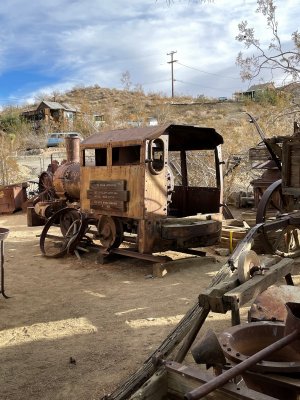 Was sad to hear that the General Store and the White House Saloon have been closed down. White House Saloon has been there since 1897.
The White House Saloon was the go to spot in Randsburg. My son said the owner died from complications from a surgery he had.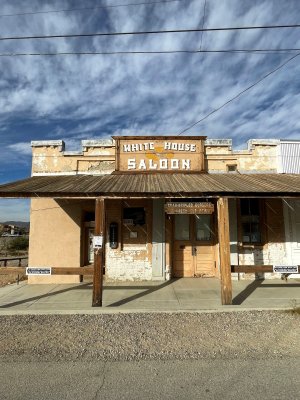 We then ran the back roads to Trona Pinnacles.
I love these 2 lane desert back roads.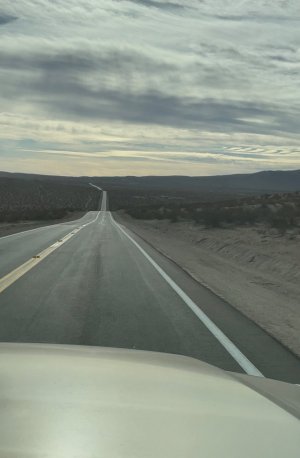 Made it Trona Pinnacles. Place is amazing. If you go, keep the speeds down. One because its a national park and the other because this is also shared by a lot of hikers and non off road people.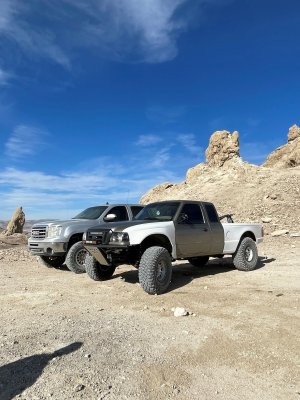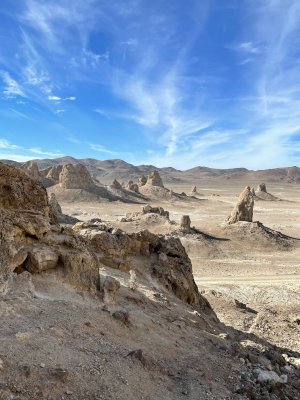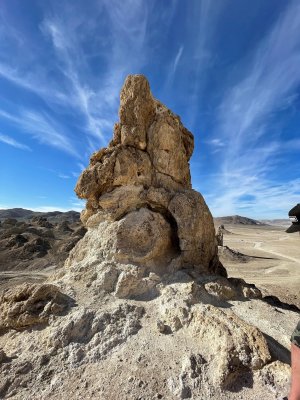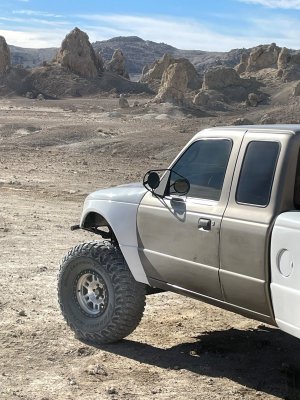 Older kid also got to try out the Milwaukee Packout coolers and storage system he mounted a few months back. . He's running to smaller coolers. One for drinks and the other for snacks. We weren't sure if the plastic mounts would hold up to the abuse, but they did.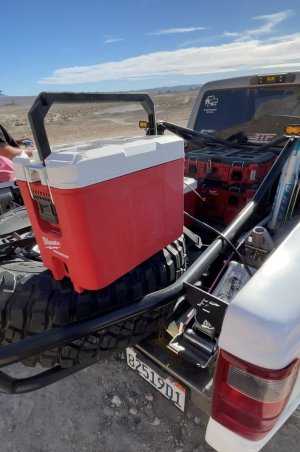 Then it was highway back to Randsburg. Then all dirt back to California City.
Dang bushes always jump out at you.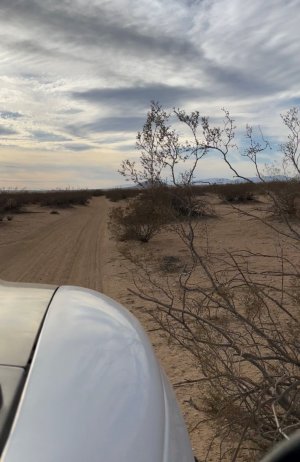 On the way back to Cal City. My older kid had to stop by his favorite jump out there to test that rear Fab Lab setup. Truck did good. Do need to add a little more rebound to the rear as it was dancing around some on the whoops.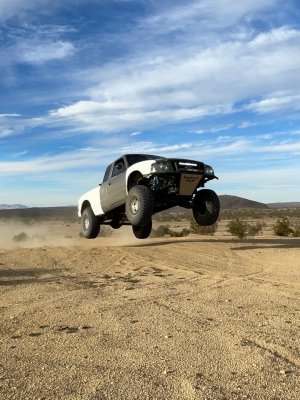 You can never pass up a glamour shot of the desert skies.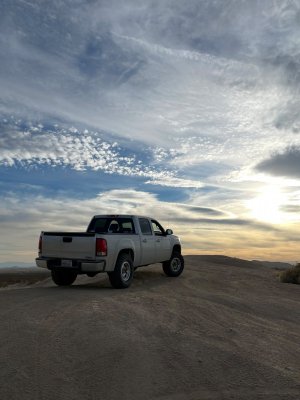 Hope you enjoyed the ride along.