Joined

Apr 4, 2022
Messages

60
Location
(Copied from OG thread)
This Ranger started with a ghetto DIY mid travel kit, Camburg uprights, re-arched custom 64" junkyard leaf spring pack, King smoothies, and a donor 5.0+4r70w from an Explorer. Lots of labor and minimal money invested, yet a ton of fun. An excellent learning experience, but the bump steer with the DIY kit was fucking terrible (I was unwilling to modify the Camburg 5.5 kit spindles), and the Chevy-based leaf pack was always going to be stiff as hell.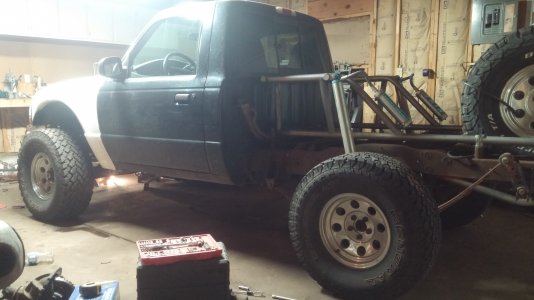 Hoarded parts over the past six months or so before tearing the truck apart completely. Picked up a BTF race long travel kit, King 2.5 10" coilovers, Fox 2.0 bumps, basic 48" Ruffstuff four link kit, Giant 9 inch truss/axle side tabs, Threat chassis link pivots, factory Dana 44 hubs/spindles, RCI 32 gallon wedge fuel cell with a fuel level sender popped in, and a GM metric caliper conversion setup for the 9".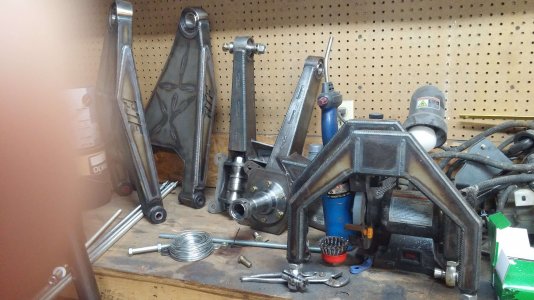 Most of the local steel places assume you're talking about pipe when you say "tubing", and even the better ones can't/won't order in DOM. Since options are limited, I picked up 220' of a mix of 1.75" .120 and .095 HREW tubing in the redneck tubing transporter.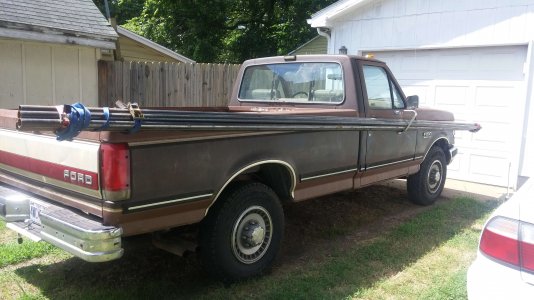 Stripped the truck down to a bare cab, frame, engine, and trans. I cut out the fender wells for ease of access, and the rest of the fender structure will be deleted once the engine cage is in. A factory core support is staying though. After stripping the truck, the factory coil buckets and bumpstop strike pads were removed, and the holes were filled.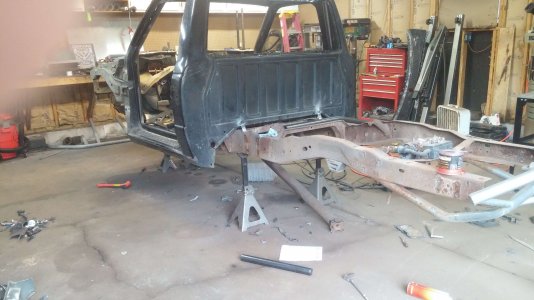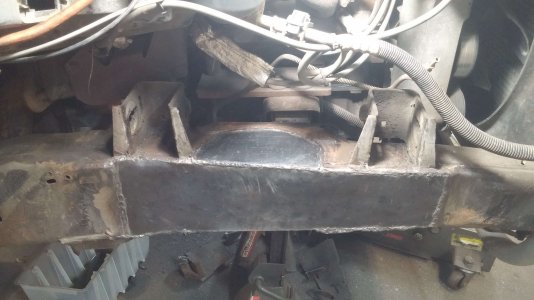 All past bending was done with the glorious Harbor Freight kinker, and notching was covered with the trusty old angle grinder. Picked up a Buildpro notcher, chintzy Klutch welding/fixture table, and a Pro-Tools 105 tubing bender. Welded up a quick stand for the bender instead of paying ~$160 shipped for one. Welding is far from great, but still considered pretty damn solid out here in sister-lover country.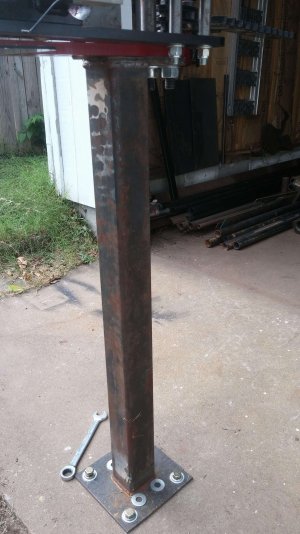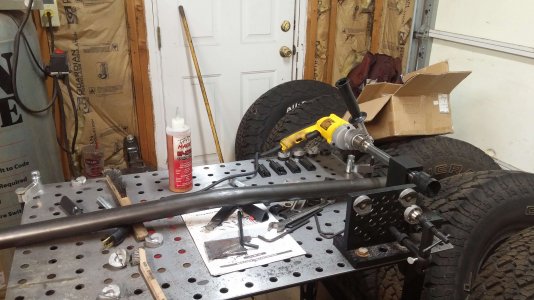 Huge props to @FasterNU for the PAD notes. They were obviously written for extended cab trucks from the previous generation, but a ton of info still crossed over perfectly. I hacked out the cab floors and set up the floor bars.