Joined

Dec 29, 2022
Messages

20
Location
2012 Toyota Tacoma Double Cab Long Bed Prerunner TRD Sport v6 Auto
How it currently looks (January 2023) :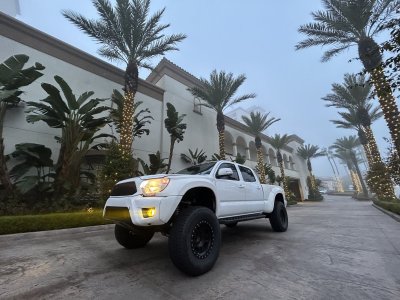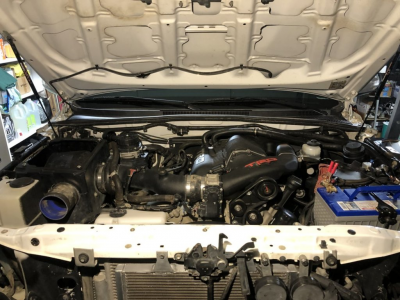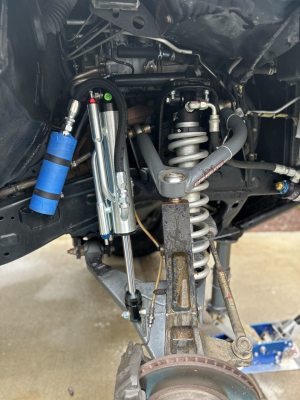 Mileage as of (July 2023): 115,xxx
MPG's with current upgrades: 10-11MPG Towing • 14-15mpg City • 17-18mpg Highway
Supercharger: 13-14mpg City • 15-16mph Highway
Off-road: 10ish at WOT.
I got the truck in October 2015. Needless to say I was beyond excited to have my first truck, until I joined TacomaWorld a day later, and realized I wanted to sink about $15k+ in mods worth into it. (here were are 8 years later, over 2x the $ in, and still not close to done.
MODS that make mine and do things I want it to do!
Exterior:
35% tint all five windows and 85% on windshield.
Debadged / No TRD beside stickers
OEM Bedmat
OEM Bedstep
Redline Tuning Hoodstruts
DTF FAB Type "C" skid/bumper utilizing OEM bumper
AVD Fiberglass Front Fenders
Custom Fiberglass Bumper Caps
Tube front core support
ADV Fiberglass Bedsides
TygerAuto Soft Toneu Cover
Suspension:
Fox 2.0 Performance series coilovers set at ~1.5" lift (REMOVED)

Camburg Racing 3.5"+ Long Travel Kit with heimed joint upgrade
Camburg LT Bypass hoop
Total Chaos upper control arm double shear
Fox 2.5" Factory Series Coilovers 8" stroke with RR and DSC - LT spec
Fox 2.5" Factory Series 3-tune Bypass 8" stroke with RR

Fox rear 2.0 performance series smoothies (REMOVED)

2018 Ford Raptor Fox 3.0 Internal Bypass 12" shocks

Wheelers 2" AAL on oem tsb springs (REMOVED)

Deaver j66 pack (custom modified by Deaver)
Maxtrac 4" spindle lift

Wheelers front superbumps (REMOVED)

Rear Locked Offroad 2x2" Pin Bumps

Wishlist: 2.0 bumps for the front
Wishlist: Linked and Caged
Wheels/Tires:
(5) 17" Pro Comp La Paz 29 black no hubcaps

BFG All-Terrain Ko2 in LT285/70R17 (WORN THROUGH, 55k miles)

(5) WestLake SL369 315/70R17 (cheapest 35's I could find, thru Amazon !)
(1) old 285 BFG in the OEM spare location as weight & an emergency spare
Kartek T-handle spare tire mount
Engine/Performance:
Volant CAI with dry filter & filter splash cover
Borla Cat back exhaust (Chopped just before the axle )
2012+ air injector pump filter Mod
Tacomaworld @mightytacoman Cam Gears installed by Tacomaworld @greenEFSI
TRD Supercharger (bought used in 2022 @107k miles)
URD 2.85" stealth s/c pulley
CSF FJ radiator w/ shroud
160° Mishimoto thermostat
NGK LFER7BHX Ruthenium Spark Plugs
Chiayi Racing Red Bullet VVT-I solenoids

Wish list: Full OTT Tune for the mods. Guesstimated HP is around 300 to the wheels with OEM tires. This is hopful though
Interior:
Painted Center A/C vent dash piece black

Midland 10001z CB with Pa (REMOVED)

OEM all weather mats
Coverking Ballistic Canvas seat covers in black
Clazzio #1 Heated Seat kit
Bedlinered kick panels, and front & rear plastic door sill step cover things
Thinkware Q800Pro Dashcam
SPOD Mini 6 Control System (for off-road lights)
Cravenspeed flex pod gauge mount
SpeedHut boost/vac Gauge
SpeedHut AFR Gauge (wideband mounted after OEM Y-Pipe)
Baofeng 8w Handheld UHF/VHF with corded mic
Roof-mount Magnetic 3' whip for the Baofeng
Full sound system upgrade (see below)
Sound:
Doors and rear Firewall dyno matted
Pioneer AV-H4500BT Head Unit
Audio Control "The Epicenter"
Focal 6.5" midrange component speakers front and rear
Memphis Mids and Highs amp 200 watt
Memphis subwoofer amp 500 watt
Dual Memphis MC 10" subwoofers
Custom Sealed enclosure behind rear bench seat
Focal Access Tweeters (front and rear doors)
Lighting / Electrical:
30" Amazon bar behind the grill (REMOVED)

Dual 3" Amazon pods on the rear bed rail (Removed)

OTRATW Contura V switches (REMOVED)

Dual inline 6" Led reverse lights on rear bumper
Full interior and exterior Led replacements

5000K HID bulbs in headlights and fogs (REMOVED)

Philips +130% halogen bulbs

Black Headlight Mod (REMOVED)

Amazon Chrome / Clear Reflector Headlights
Spyder Auto Chrome LED Tail Lights

Cooper Bussman fuse / relay box using 3 out of 5 channels (REMOVED)

2012+ Fog light anytime mod
Diode Dynamic SS3 MAX LED SAE fog lights
Diode Dynamic 30" White Combo Bar (behind grille)
Diode Dynamic 30" Amber Spot Bar (behind grille)
SPOD Mini6 mosfet electrical Control System
SDHQ Behind Grille LED Mount
Recovery:
3.5" x 30' Recovery strap 35,000 lbs
Hitch shackle
Soft shackle
Mini Shovel/blade/serrated blade mounted with quick fists in bed
Philips and flat blade screwdrivers
Blunt and needle nose pliers
Full socket/ box end wrench kit covering all Suspension hardware sizes.
2 road flares
2 5lb Fire extinguishers in the bed
Traction boards
SmittyBilt 5.65 CFM Air Compressor with DIY dual-tire air hose

1.5t HF Racing Jack with DMZ Skids and mounts (FOR SALE!)

ProEagle Jackpad (FORSALE!)

HF Badlands 3 ton oFfRoAd jACk
Grover Fab Badlands Jack mount (soon)
Some of the recent bad lines: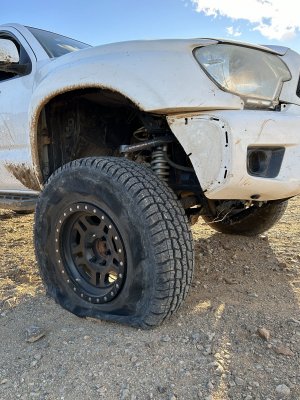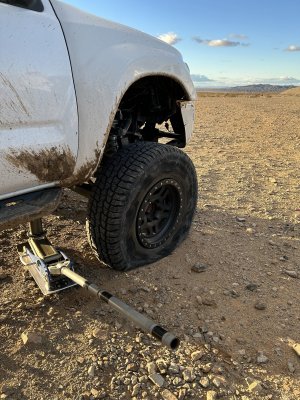 Read on to find out more!
Last edited: