sometimes you get fed up with life and need to check out for a bit, this story started last year over the 4th of july. i was working another holiday and was over it. went in on monday and submitted my request for 2 weeks off. throughout the year i knew that i was going to create waves but again i was over it. through a series of events i ended up leaving that job in mid june, was at the new job a week and then off two weeks. based on my rough calculations i had accrued about 240hrs of vacation in my 3.5yrs, my last check showed 205.3hrs of vacation. easily 75% of the time off was to take of care of mijos in one way or another, so to say i was burned out was an understatement.
so after consulting my fake internet friends on
www.irate4x4.com
(spin off of pirate4x4 after the VS syrup suckers bought it and covered it in ads) on where to spend the 4th other than socal and within a 1,000 miles. after looking through the suggestions Lander, WY was the winner. wife is from ventura so the 2-4hr trip depending on traffic from riverside happens on the regular, but 6-8hrs (planned which did not happen) was going to be a whole new experience for the mijos (7, 5, 4)
quick and dirty route - staying off interstates as much as possible
riverside - lake panguitch campground north, ut - flaming river gorge lurcerne campground, ut - lander, wy - carbondale, co - kanab, ut - zion NP, st. george, ut - riverside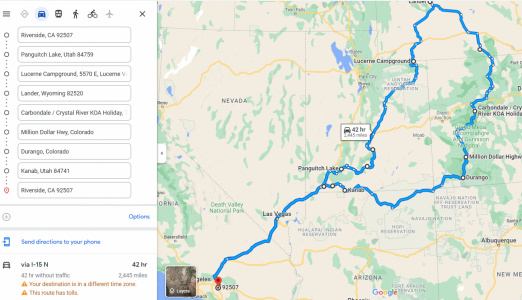 trip prep
tires - couple of stripped studs (ended up replacing 2 on the rear, 2 on the front) to start that party, thankfully you can change front and rear studs without pulling axles/unit bearings on the gmt-800 platform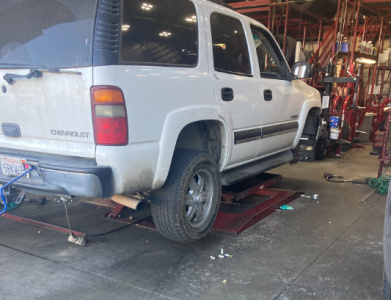 the plan was 10 days on the road, there was no way i was chancing it with a cooler of water logged food. so many meals in my single days ruined with a container getting a hole in it. so after years saying im going get one, i bit the bullet and got a 12v fridge. buddy has a 55 litre arb and says its a little small for his family of 4. like most things right now trying to find a fridge was a PITA. was hoping for a snomaster since they come with all the accessories youd want (cover, cables, bluetooth) and also have a low profile line to keep things from being too tall. due to availability and some internet reviews i went with a dometic 75dz after some didign i went dual zone to allow for less opening and closing. the 'smaller' zone was from drinks and one time a day items. the larger was the mainly used zone. i ran some tests and it wouldnt be able to hang just off the main battery. so i installed a dedicated battery, solid state isolator (
https://www.waytekwire.com/item/44419/InPower-ABS3-200A-Auxiliary-Battery/
) and upsized the alter output wire. after some interneting the car audio dudes discovered that there is an OEM tray (Dorman 00085) that bolts into the fender for a second battery for the HD stuff, which works on the 1/2 ton stuff. so that was super rad and saved a ton of effort because i was struggling for an "easy" solution.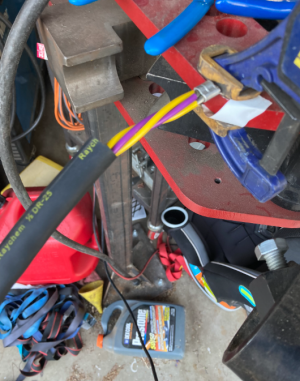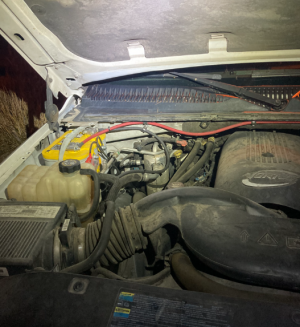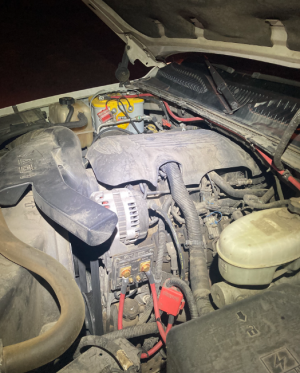 fully dedicated 10awg wiring run to the back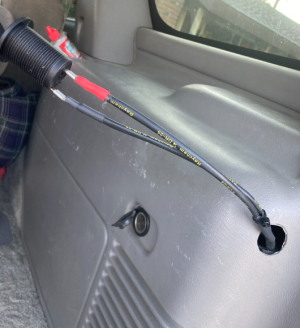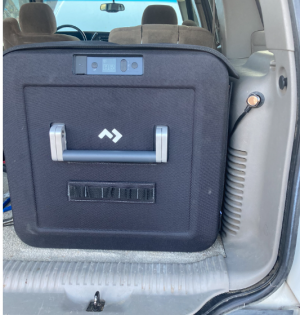 obviously i cant overland without a slide, so i whipped one up using the factory seal mounts as attachment points. the internet use kitchen draw slides then complain about them failing because the ratings on the cheaper ones are low. these slides were not cheap (
https://www.mcmaster.com/6603A56/
), but are rated for 450lbs extended, good enough for kids would hang on stuff because they think everything is a jungle gym, when the fridge is full. would like to upgrade to double locking slides in the future for some more rigidity.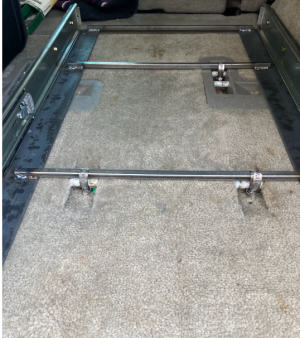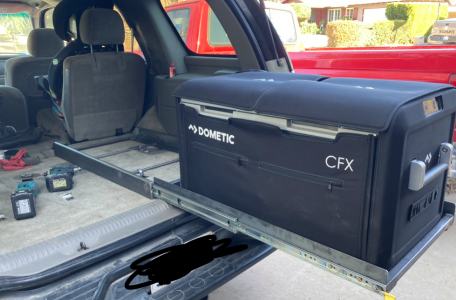 next up was the deck over the fridge because everything for 5 people camping/vacationing for 2 weeks was going to be in the vehicle. quick and dirty, could have been better in some ways, but it was done and did the job.