Joined

Apr 1, 2022
Messages

530
MOBZA Mission Statement:
***This project shall be focused on laughing, shit-talking, drinking, and building as much function into a truck for the lowest cost as quickly as possible. Fun/Dollar ratio should be as large as possible. Truck downtime shall be kept to an absolute minimum to facilitate dezert & DD activities.***
Brent wanted a dirt-capable truck to take on dezert camping trips, cruise around local dezert races, drive 32 dirt miles roundtrip to/from work, and of utmost importance: cruise mall parking lots whilst looking Brofabulous.
This project is about getting a truck into the dezert quickly and inexpensively so we can enjoy the sights, laughs, road sodas, trash-talking, and bromance. I'm getting paid in Del Taco and Miller Highlife. I am banging out the fabwork as quickly as possible (and it shows). Most of the materials are from my scrap bin.
SO IT BEGINS-----
September 2015
————————
Brent decided he wanted a dirt-capable longtravel 2WD or 4X4 mini truck that was inexpensive to build, reliable, and had reasonable fuel economy. DD streetability, reliability, nice interior, stereo, and working A/C were necessities. He asked me what kinds of trucks he should consider buying…
Brent: "Dude, what trucks should I search Craigslist for?"
Me: "Get a 2.3 or 4.0 Beamed Ranger or 22RE Toyota or a 6 lug Tacoma. DO NOT get an S-10, Hardbody, Mazda, Isuzu, Mitsubishi Mighty Max, or anything else fucking lame. I don't want to cut the coil buckets out of a A-Arm Ranger or S-10. Stay away from 3.0L A-Arm Rangers and 3.0L Toyotas, those motors suck."
A couple weeks later: September 2015
Brent: "Hey Rouse, I got a truck!"
Me: "Schweet! Whad'ya get?
Brent: "2001 Mazda B3000, low miles, straight body, and nice interior. It's gold."
Me: "Is it four wheel drive?"
Brent: "No."
Me: "What the hell is wrong with you? Seriously dude, that's the EXACT truck I told you not to buy if you want to build a brotastic brorunner on budget, dude!"
Brent: "It's in good condition."
Me: "Fuck you."
____LONG PAUSE____
Me: "It's seriously a fuckin' gold Mazda with a 3.0??? Jesus Christ."
Brent slapped the obligatory RDC sticker on the back window and hit the dirt.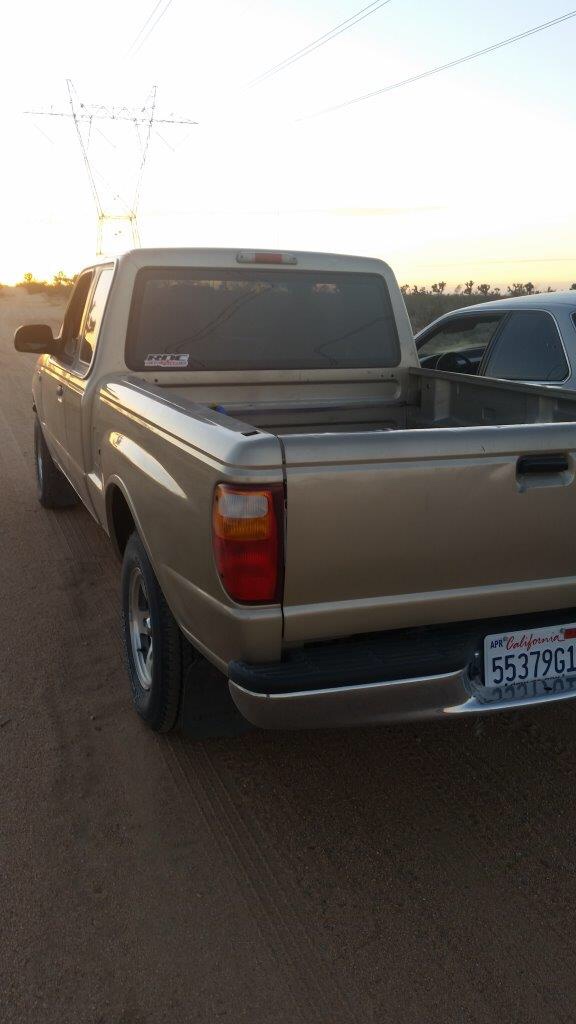 Brent perused Clist and RDC classifieds for long travel kits with zero luck whatsoever for 2 months. (Not that he would have dropped the $2K on a used A-arm/spindle kit anyway, the cheap fat bastard.)
Being the good friend that I am, I ridiculed him.
Me: "If you had bought a beamed ranger, we could've made tons of whoop-swallowing front travel with stock beams by now. Good call on the A-arm Mazda—you currently have 7.5 inches of travel—no BroHoes for you."
Me: "Find any used Mazda fiberglass yet? No???? That's weird….. Douchenozzle."
I sent him links to the plethora of Toyota long travel kits and extended or bent beams that were for sale all over Clist and RDC classifieds to rub it in his fat face. I busted his balls so much that I could tell it was actually starting to get to him. Mission accomplished!
This 2001 Mazda B3000 will get built incrementally. No extended multi-year downtimes, thusly, no lost interest. The bad part about incrementally building a truck is everything gets cut off and re-done. The BLGT way.