Joined

Mar 23, 2023
Messages

10
'I've been post-running since pre-runnin' was race-running'
Everyone loves talking about their trucks, right? So why not a build thread to cover the last 20 years. This month marks 20 years of ownership of my little red Ranger. Back in 03 she was bone stock with a camper shell. I added a body lift and some 33's and made it through college like that.
After college she got a little neglected for a few years, I built up a 5.0 Bronco2 rock crawler. Then a 93 Ranger short box Rock Crawler.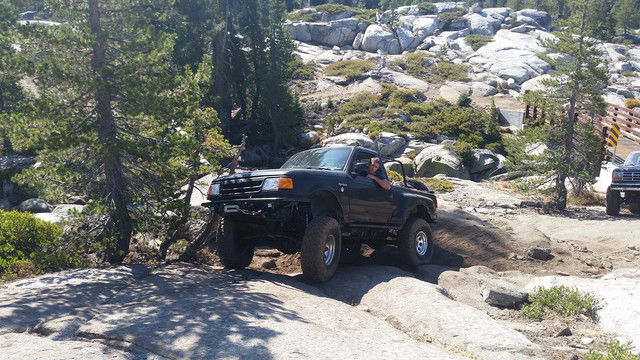 I always wanted a prerunner, so the red truck got fiberglass fenders, deavers, d44 full width beams and 35s. Eventually some King 2.5x8 resi's up front and some SAW 2.5s out back and single swing steering.
After 5 or 6 years of having two '93 Rangers, one rock crawler and one prerunner, i decided that was silly and took all the good rock crawling parts off of the black ranger and swapped them onto the red one including the stock steel front fenders and step-side bed so i wouldn't smash up the fiberglass on the rocks.
Currently she sits like this: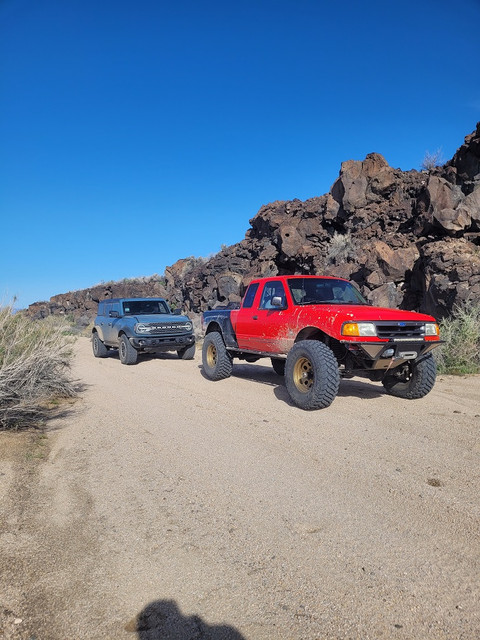 Full specs:
4.0v6 - Stock
5speed manual
Atlas2 t-case 5:1 ratio
Front end:
D44 TTB cut and turned,
2" drop brackets
4" lift coils
2.5x8 King resis
2x2 Fox Air bumps
ARB locker and 4.88s
Rear end:
Explorer 8.8
ARB locker and 4.88s
Yukon Chromo Shafts and c-clip eliminator
Deaver F31 Springs
SAW 2.5x14 resi shocks
Custom bumpers front and rear
9000lb winch
Rock sliders
heavy duty t-case skid plate
37" Firestone MT's
17x8 Steel wheels
Rock lights, small light bar up front.
Interior is mostly stock aside from some Corbeau reclining seats.