@the bodj
put this wild adventure together and
@Motiracer38
put together the route and stops. The idea was to take our time and hit lots of the sights along the way.
Hey guys, thinking of doing a Mojave Rd trip for whatever dates work. The blooms should be great with all the rain we've had this year. I've only done the trip once and it was for a quick weekend for @the_fablab_ 's bachelor party, so we didn't make many stops. I'd like to do it and see as many...

forum.badlinesgoodtimes.com
One group met up Thursday night near Newbury Springs and camped. Rumor has it it was windy and miserable, but the spot was great.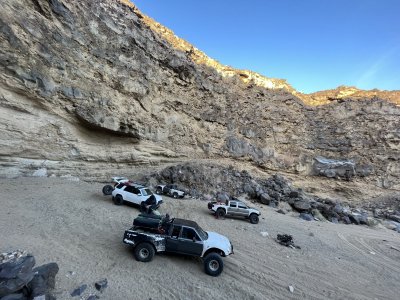 The minion and I headed out from Ventura at 0400 Friday morning to meet up with the boys at the Shell Station in Newbury Springs. The napping co-dawg seemed to be a theme for the trip for me.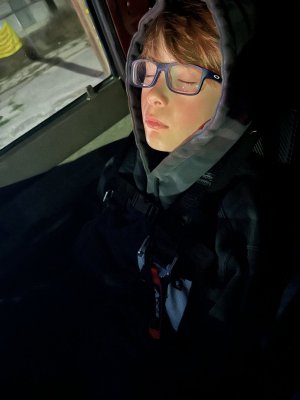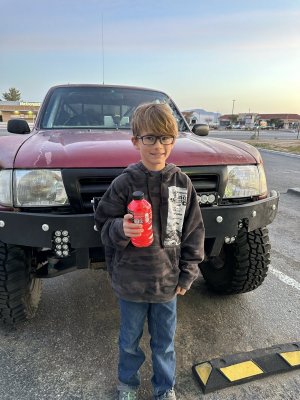 Met the boys and headed into the desert around 0830. We had an absolutely epic day in the dirt on Saturday. Stopped at the sand dune house, slot canyon, Afton water crossing (it was decided it was too deep after all the rain and we bypassed it), Mojave Mailbox, Rock House, lava tube, gold mine and probably a few other spots I'm forgetting.
The only planned spot we didn't hit on the first day was Hole in the Wall, it was getting late and we wanted to make sure we got a camping spot.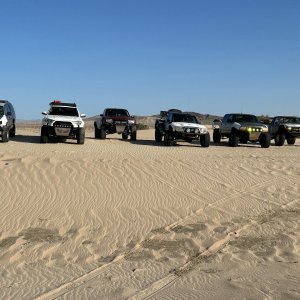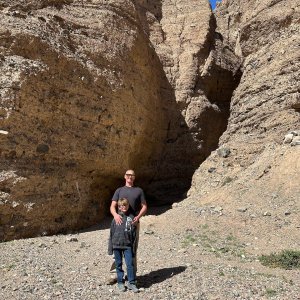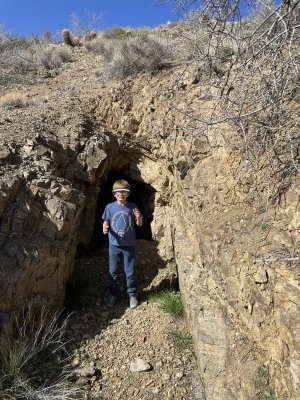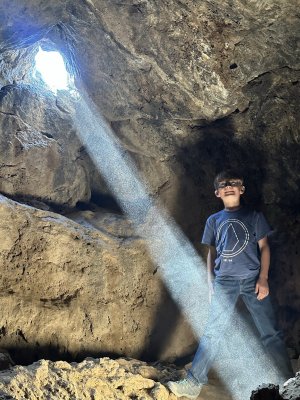 Ended the day at Caruthers Canyon to camp for the night. Total dirt miles on day one, 180ish. Also learned a valuable lesson about my truck, 200 miles is my range in the dirt. I guess 35's, 5:29 gear and a tired 3.4 gets 10MPG or less in the dirt. More on this later.
Had a great night at the absolutely awesome campsite. The minion was exhausted and asked to go to bed at 8. Then yelled at us like an old man for being to loud.
@theycallmeWALLY
was supposed to meet up with us at the campsite Friday night. It was getting late, 10ish and since there is no cell coverage, no one was sure he was going to show up. Just before 11, we hear a truck coming and he and his co-pilot pull up.
He ended up being my gas savior and had 4.5 extra gallons to get me to the gas stop the next day without drama. Thanks!!
Went to bed around midnight and all of us survived the cold but relatively wind free night.
Started a fire, had some breakfast, then packed up and headed out for day two.
Just after we get started,
@Motiracer38
needed to add a little ATF to a leaking power steering system.
@Turboyota
found a frame crack near his steering box and tightened up some steering box bolts. After a few minutes we were back on the trail.
A little while later,
@Turboyota
gets in the radio and lets us know his steering is weird and something is definitely wrong. We stop and survey the damage. Broken center link at the idler arm.
With a collection of tie downs and zip ties, they were able to get it patched back together to get it rolling again. We kept the group together and got him to the 95.
@theycallmeWALLY
was able to find Dylan in Mojave Valley. Dylan made his shop and tools available to use.
@Turboyota
and
@the bodj
got the truck fixed and we headed into Laughlin.
Parked on the top of the parking structure and had some celebration beers. Everyone was ready for a hot shower. We all hit our rooms and cleaned the desert off.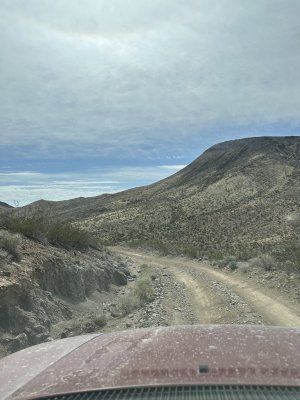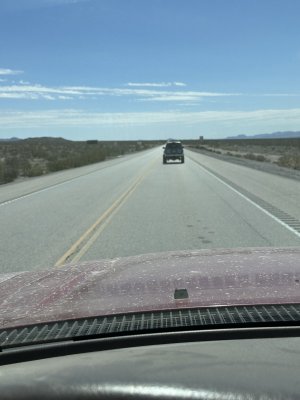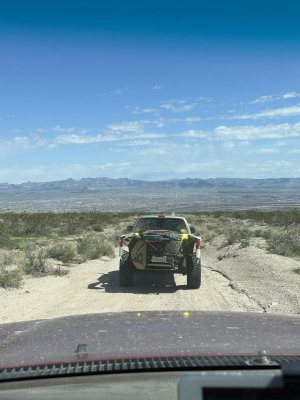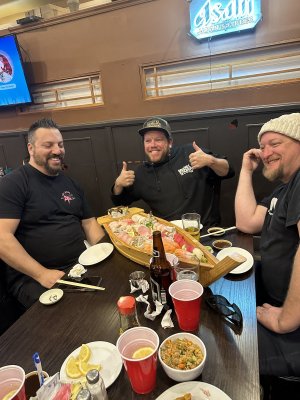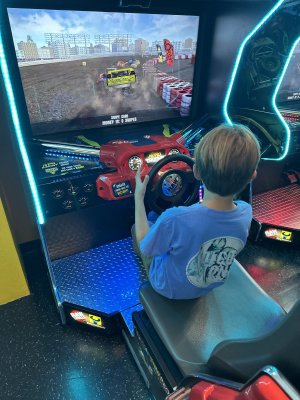 Met back up for a pretty decent sushi dinner. The minion and I hit the arcade after dinner, then met up with the group again for some
more parking structure beers. We headed to bed around 930.
The minion and I got up, packed up and started the journey home via the freeway. Some of the group was going to hit some more dirt on the way home.
Found a leaking lower radiator hose while I was airing up the tires. This was the first and only time I had to pull out tools on this trip. Totally happy with how my truck did. It kept a respectable pace and never let me down.
We did stop at the Calico Ghost town and checked it out, the Minion loved. Cruised the freeway the rest of the way home. We pulled up to home at around 3.
Total mileage for us was 802. Dirt miles were around 250ish. Overall epic time with some rad people, most of which I had never met before. We can't wait until the next one.