Joined

Apr 1, 2022
Messages

245
November 2020
Trucks: 6
1. My Turboyota
2.
@84projectFORD
's Retarded Trophy Truck
3.
@Motiracer38
's Linked Toyota
4.
@h0runner
's LT 4Runner
5.
@Kellyex1450
's Sleeper Toyota
6. Ameribrade Eric's Linked Bronco
Map:
We met James and Eric at 8:30AM off Dillon Rd in Indio:
Took the power line & gas line roads Easterly toward Pinkham Canyon.
Turns I missed on the way: 2
Waited for Eric at the entrance to Pinkham Canyon and had a couple beers.
Got ahold of Eric via cell phone. He was "reconfiguring his spare tire and jack setup." So the other 5 of us blasted into the Pink(ham) Canyon without him.
It sounds kinky because it was.
Pinkham Canyon is soft sand with lots of rocks thrown in, and my plotted route was absolute shit, so we all kinda picked our own path and kept on the gas.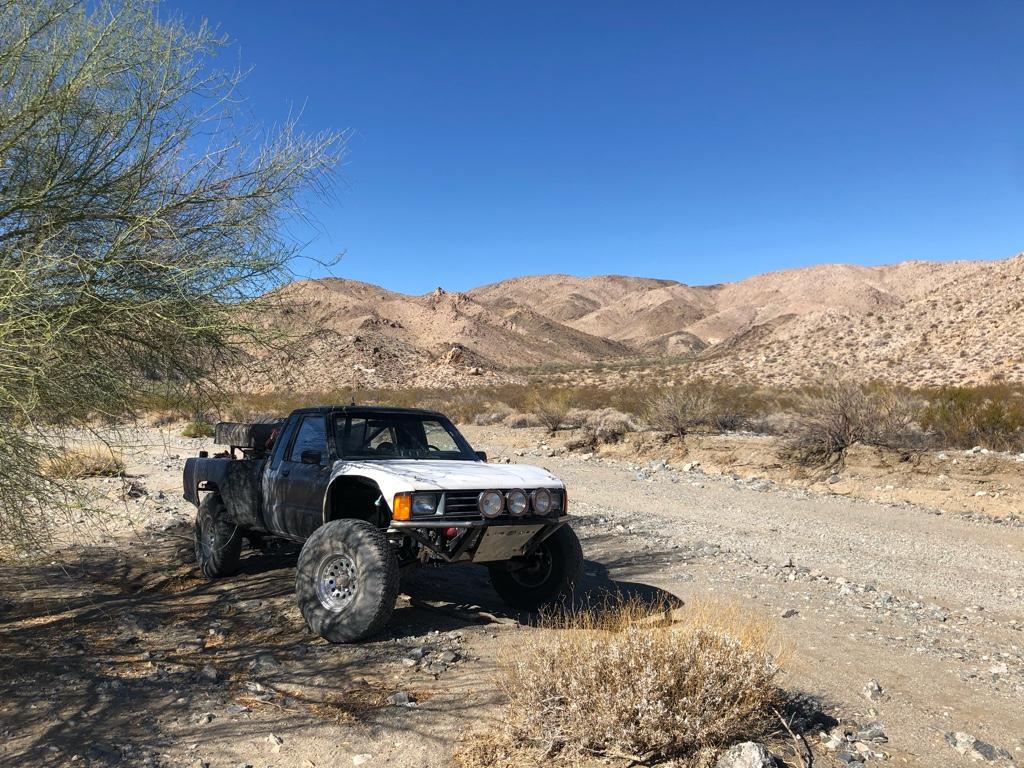 Exit of Pinkham Canyon by the cottonwood visitor center. Everyone was all smiles—that trail is super fun! Celebratory beers were had.
Dirt miles so far: 43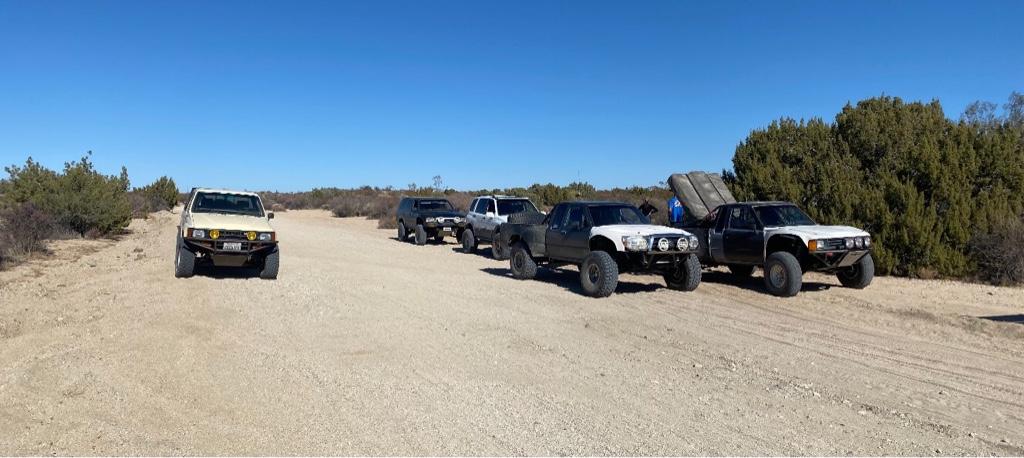 Fueled up at Chiriaco. Eric's Bronco and tire carrier bumper had a divorce. Eric had stashed the bumper behind some cactus off the power line road and moved the jack and spare tire onto his roof rack. The "fabricator" that installed the bumper before Eric took possession of the Bronco did a less-than-stellar job of attaching the bumper to the stock frame.
From Chiriaco, we took Red Canyon Jeep Trail 13 miles southeast to Bradshaw Trail. Lots of whoops, RZR chatter bumps, washes, and ridge running. Overall a super fun trail!
Kelly and James on the gas!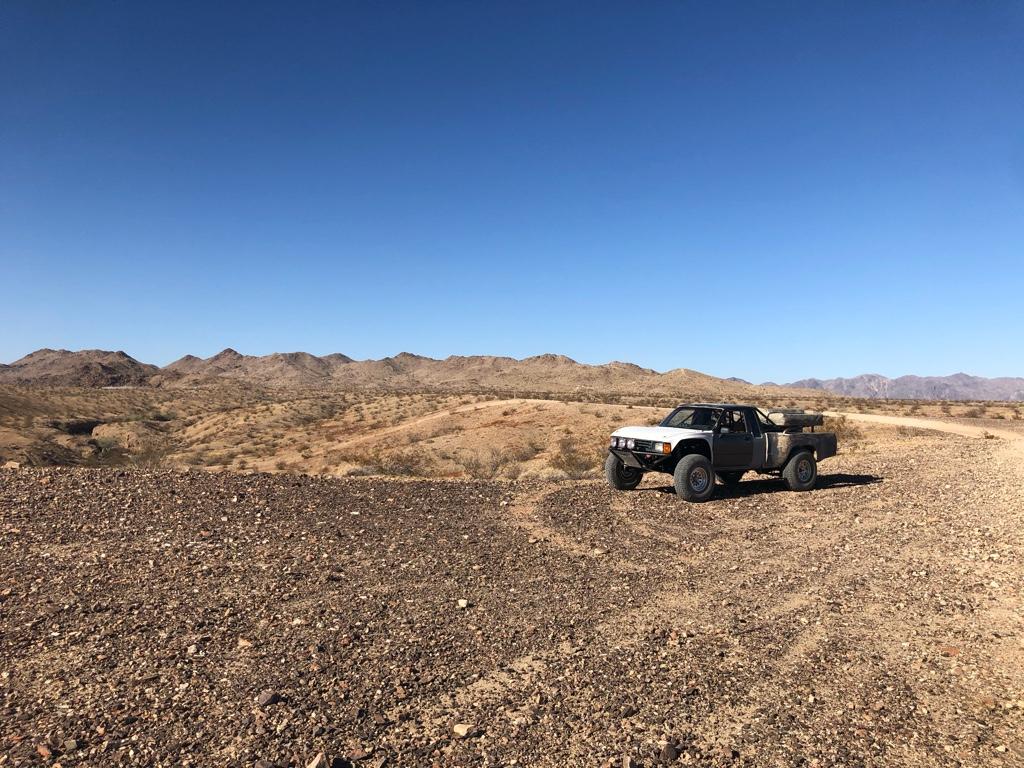 I really enjoyed watching James drive the absolute FUCK out of his retarded trophy truck. That thing fucking gets it!!
We passed 3 gayzers and stopped and waited to regroup when we hit Bradshaw Trail.
@Motiracer38
noticed that he had lost his tool bag.
Heard over the radio that Eric had lost his jack, so we hung out, drank beer and talked shit. HoRunner found Motiracer38's tool bag—score!
@Horunner deleted a light tab:
Eric had a long backtrack to get his jack. He was pretty frustrated at this point and felt bad about making us wait. We all reassured him that this is how it goes with new-to-you vehicles, and not to worry about it. Eric suggested that we all give the Bronco a thorough once-over.
We found that the motor was not bolted down because the passenger-side motor mount bolts had fallen out, the steel hood was about to fall off, and the core support support inner fenderwell structure had broken. It took 3 of us to get the hood open, and we proceeded to party and give the bronco a tuneup. Nobody had any 7/16-14 bolts to affix the motor mounts, so we started scouring the trucks for suitable replacements. Turns out Eric's front skidplate had appropriate 7/16" bolts, so Eric and James squared away the motor mount issue while other dudes fixed the hood and played with the kids.
We were now 4 hours behind schedule, so I made the decision to call it, and we camped in Red Canyon(in the middle of the road, per usual) next to the cool mud cliffs.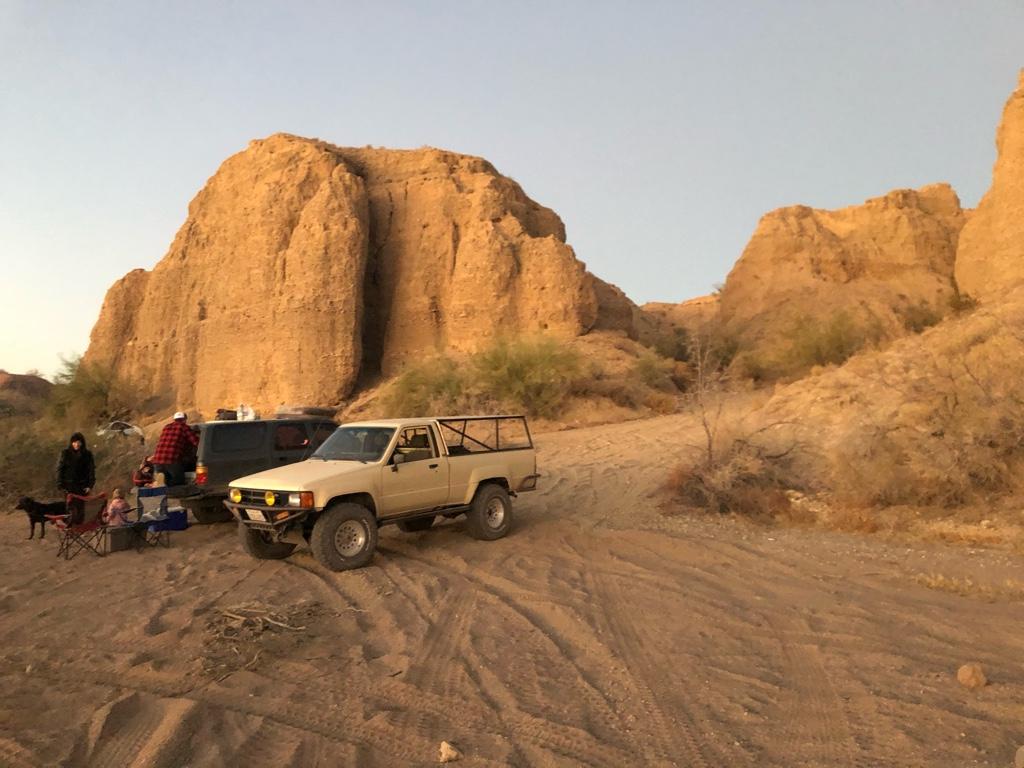 I finally used my sick mood lights: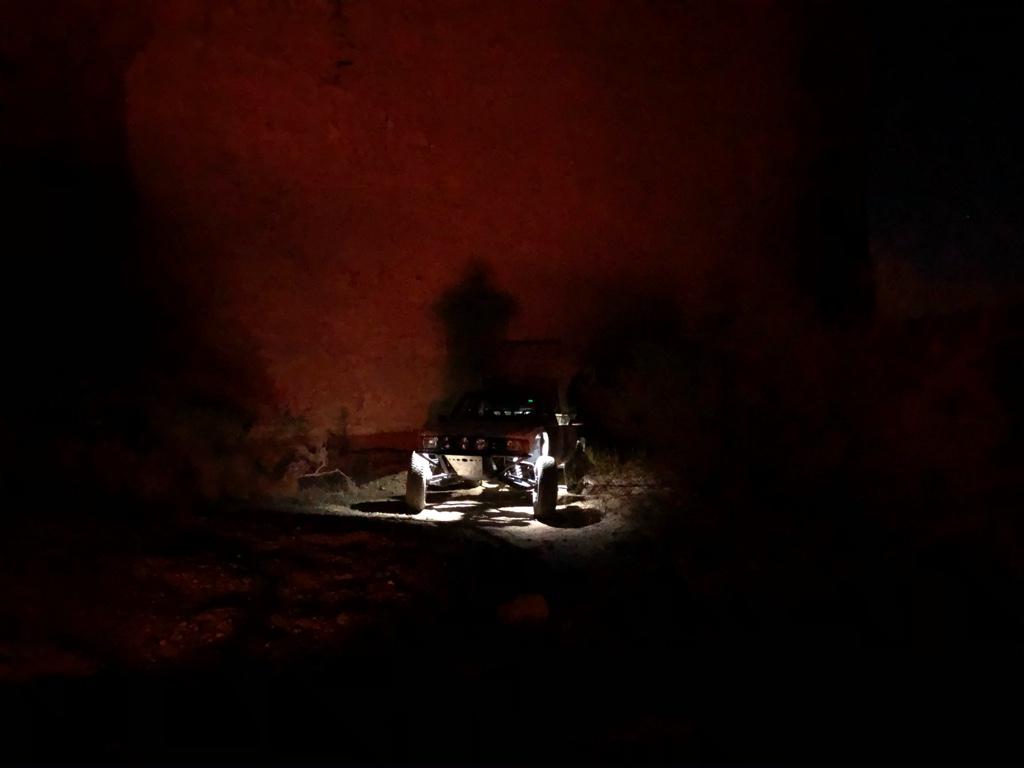 We all made delicious dinners and enjoyed the campfire and drank beer.
My day 1 beer tally: 23 Coors Lights
Times I ran out of talent and blew a corner: 1
Day 1 Carnage:
1. Bronco bumper
2. Bronco motor mount
3. Bronco inner fender tubular/angle iron core support structure
4. 4Runner light tab
5. Retarded trophy truck alignment
6. Kelly's sleeper Toyota passenger-side mirror