Joined

Feb 8, 2023
Messages

127
Location
Me and the old man decided last year that we were going to see what EJS was all about, I had some friends making the trip out from Michigan so the least I could do was drive 10 hours to meet up with them. I had never been to Moab other than passing through and the jimmy would have been ready for its shakedown (though I had yet to even purchase it when the trip was planned).
We stayed in one of the cabins at the Moab KOA, it was kind of pricey but completely worth it by the time you factored in driving an extra vehicle with the toy hauler or the cost of a hotel room. Initially we planned on loading up my gooseneck with both my dads CJ5 and my K5, but dad didn't have his jeep ready and diesel was north of 6 a gallon at the time. So we stacked all of our gear on my little trailer, hooked it to the jimmy and sent it...
It was a great time. Got to meet up with some awesome people from all over the Midwest that came out. Best part was we didn't fit in with any of the jeep crowd and we didn't care either, I really thought we'd get a few sideways looks on the trails but it was generally quite the opposite.
It was kind of mid week when we were there but it was really quiet considering. Could have been the price of fuel at the time, but we also did a pretty good job of staying away from the planned group rides. But even the expo was pretty slow for what you'd expect. For only a couple days a wheeling we covered hells revenge and fins n things, didn't want to push the truck too hard since it was our transportation home too! Annnd photo dump:
So for starters this was the Jimmy about 3 weeks before we had to leave
Making our way out from AZ. Thing did awesome for the 1300 mile trek there and back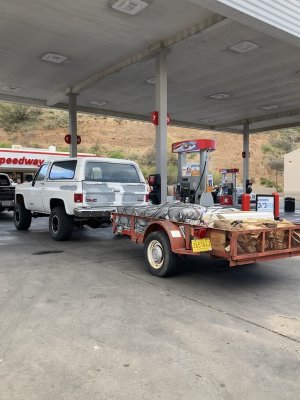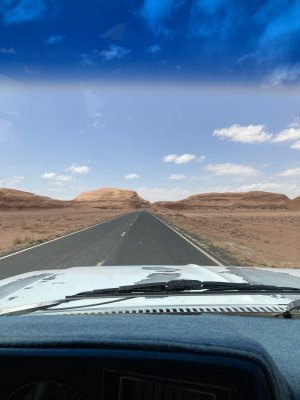 Hells revenge with the Midwest crew