Joined

Jul 24, 2022
Messages

7
Hey guys new here and since I don't have an IG anymore might as well meet some people and get going on some trip with this site. I bought this truck stock with only a solo moto sports bumper and method 15" wheels and 33" generals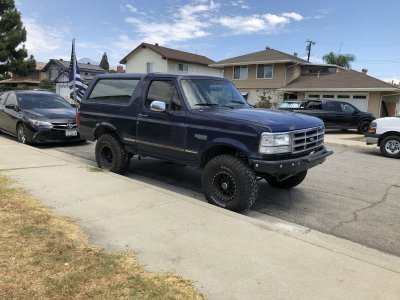 Truck was rough on the paint and the owner tried using it like his other built bronco and broke the shock mount on the beams but a quick little weld and it was road ready.
It came with the solo gas tank skid plate and fuel pump access cover but not installed so those were the first of jobs along with a new fuel pump since I was going to be cutting it open already.
After driving it for work came a cross a deal for the front solo stage 4 kit with some older radius arms from an old race team that I sold (for $300) and bought the solo ones instead and a desolate rear shock mount set up for $500 for everything. To finish I had to buy the deaver leaf spring which I went with the q80-2 to keep the truck at a nice lower stance which I preferred and put an order in for coilovers and bypasses. As I was waiting I decided to make the beams a little more sturdy by making my own truss since I needed some practice welding before the whole kit was ready to install.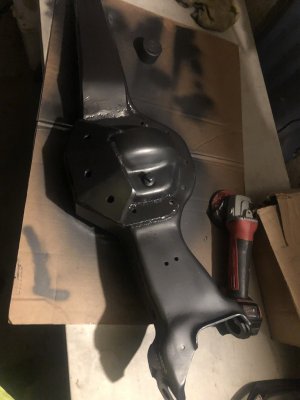 After getting everything I got the rear end started and did a half decent job getting it ready as quick as I can to make the first desert trip with stock front suspension and the rearend wasn't cycling correctly (which I didn't know at the time and found out later after I bent my rearend that I had to cut factory perches off. Which I found out after talking to the guys at solo because before that I went off of the other guys knowledge and no real experience working with that stuff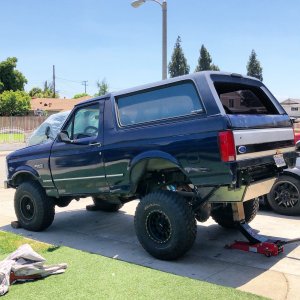 After that trip I installed the front suspension and went out to more trips and in the photo you can see the truck did not cycle right because the down travel was non existent pretty much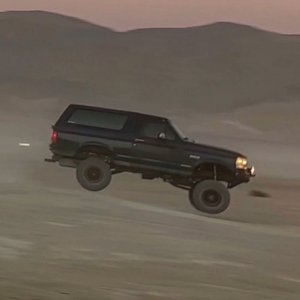 After I bent the axle I redid all shock mount and reinforced all four making sure it cycled correctly and called and bothered every bronco shop from solo, desolate and called Mike from FactoryBS I don't know how many time on the weekend to help with getting the geometry right and understanding how to get it to cycle to get pinion angle and shock location.