Joined

Feb 8, 2023
Messages

66
Location
Well, wifi at work is down. Wind is blowing 30-40 mph so why not start a thread for us to ramble about some of the other stuff that may be sitting in our driveways. We've all had that lemon at some point, or that shit box that just wouldn't die no matter what it went through.
I'll start with the worst I've had, ironically I still own it... and that's this pig. My 89 V3500 has been an absolute maintenance whore since day one. Multiple valve train issues in the original 454 that eventually kicked the bucket and got replaced with a 502. Repeatedly burning up ignition modules, god knows how many wheel seals in the rear end, A/C compressors, power steering pumps, brake boosters, radiators... even scattered the Dana 70HD in the back once (that one was my fault though). I've had it over 11 years and only put 53k miles on it.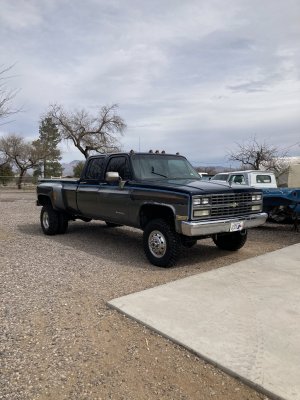 Since working in Mine development and traveling I've been rotating cheap/high mile "throw away" pickups for daily's of course that kind of stopped when the used vehicle market went absolutely nuts... but one of the best ones I've had, that I probably should've kept, was a 2002 Sierra 1500. Nothing special, Z71, 5.3, SLE trim. Had close to 275k miles on it when I sold it, I guess it finally torched a head gasket at almost 300k. I took it out wheeling in places it had no business being, ripped the air dam off more times than I could count, and managed to rack up over 15k miles in 5 months (1000 of those miles were probably from doing donuts in the parking lot at work). Aside from putting a transmission in it (trans was bad when I bought it) all it ever needed in my ownership was an o2 sensor and later a purge solenoid. Maybe someday I'll track down another 99-06 era gm half ton...