Ok new forum so lets get a new thread started over here.
Well lots of you know me and my shop adventures. Building mild to wild prerunners and race trucks. Simple bumpers to lifting the camper vans that are all the trending #vanlife stuff now.
Started my shop back in June 2010 by renting room in a shop space from Josh who owned and ran JSI Motorsports. Well within a couple months he decided he had to get a fulltime job to support his wife/kid so it left me hanging. Talked to the landlord and took over the whole shop space for dirt cheap at the time. Ran that space until the building went into forclosure and sold and shop rent was going to double. Decided that all my friends I went on trips with, The DMC, were down in south Ventura County. So after looking for shop space back home in Santa Maria for 3 months and no luck I looked down in Simi Valley. Found an awesome shop space that I rented and then started officially calling my shop, TT Motorsports, since before that it was just Tommy's Fab Shop. So I completely a lot of builds with my friends and mainly my friend Mikey who would come to the shop after his 8-5 job to help me work in the shop and part out silverado's, Escalades, basically whatever I could do to make some $$$$. I was working for Poly Performance Inc doing sales fulltime 8-5 and running the shop everyday after hours and all weekend. Business was stacking up and I decided to take the plunge to go fulltime with the TT Motorsports back in I believe September 2015. After running the shop solo fulltime until Jan 2016 I had enough business to convince Mikey to quit his 8-5 wine sale/shipping job and come work for me. Business was going great jobs were steadily flowing in and out until I met a girl and decided to move my whole life to Phoenix where it was cheaper to live, leaving my shop space for Mikey to start The Fab Lab and continue doing amazing work to this day. After 3 years and a bad accident, which long story short got my inlaws involved in my business, which derailed my business, and saw the wife and her family's true colors. I filed for divorce and moved back to Cali to be closer to family and friends and the desert I grew up going to and love.
So now that the divorce and past is behind me I have found a new home to purchase in Lucerne Valley, CA. 5 Acre's with a 2400 sq ft shop for me to work out of. I just purchased this Dec 29,2021 and Finally this past week got my shop setup and my lifts installed and ready to get back to work. My Ford F-250 Project which i've been building all year WILL be completed but to recoup some money that I have spent on that project, the house and not working on any customers projects this past year. It currently is sitting on all the suspension on blocks of wood at basically full bump to load onto trailer/off trailer and to roll around shop.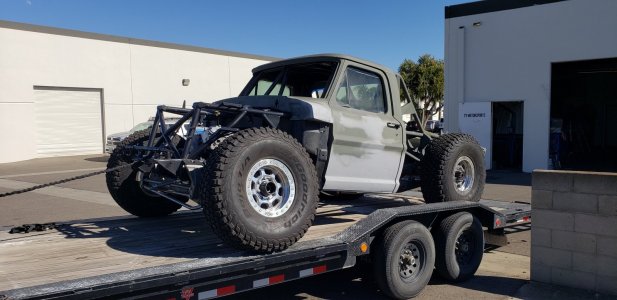 I am starting off with a 3rd gen 4Runner that is already 4 linked and I will be installing my front LT kit, towers, CO and Bypass. Along with getting a 5.3L LS motor and trans mocked up. If all goes good and smooth with that I will be continuing that build with a full cage, tieing into the rear shock hoops, doing seat mounts, and if any firewall mods are needed for motor/trans I will be doing that as well. Along with this build I will be getting back into making YouTube videos every week as progress continues to get the channel growing like it was before my accident. The 4runner will be arriving the weekend of the 23rd and work will start on it after removing motor and front suspension for customer to take back home to sell.
Home/shop Before.
Home after 1 month of working every weekend on this with my parents help.
I will be doing an update video next week once I straighten up the shop a bit more and find a home for my tool box, the ameribrade belt sander, tube notcher, etc.