Joined

Apr 18, 2022
Messages

5
I'm looking for some feedback on hardware types and preferences for fabricated skid plates. I have a tube bumper that's welded on up front on my 2000 Toyota 4Runner 4wd and will eventually get around to making a skid subframe and using an aluminum plate in front of the radiator and steel plate underneath the oil pan and steering rack areas. The hardware in question will be used with a (1/8"?) aluminum skid in the upper portion in front of the radiator for sure, and possibly the underside with thicker steel (3/16" most likely) that will see some action when I hit rock crawling trails.
I've seen All German Motorsports skid washers or countersunk tapered washers used on some of the cleaner bumper/ skid builds, but I'm not sure what style or size washers and bolts I should be looking at. Not super interested in Allen head because they like to strip easily, but if that's the norm I'd consider using the tapered washers and get a Allen or Torx head tapered bolt. I much prefer the idea of using the AGM skid washers and a 6 or 12pt bolt, but those washers get pricy pretty quick @ $5-$15 a piece!
Open to suggestions and sources for preferred hardware.
AGM dome style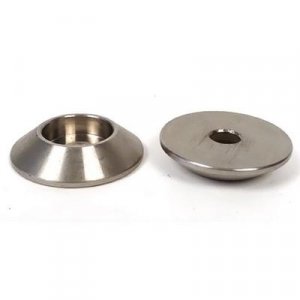 Tapered