Joined

Apr 1, 2022
Messages

534
This project was conceived while carpooling 125 miles/day round trip from Yucaipa to Adelanto. The saga began in mid-2015 when my buddy/coworker and I were spending 3+ hours in the car every day fighting the construction traffic through the Cajon Pass. We'd sit there in our shitty, boring commuter cars and fantasize about being able to get off the freeway at HWY138 and take dirt roads north all the way into work. We hoped to avoid the vast majority of the fuckity crossover lanes and construction traffic.
We decided that we needed a dirt-worthy, commuting-friendly truck to help ease the freeway pain. We planned on 40 dirt miles/day. If we were going to spend that much time commuting/carpooling, we were going to laugh our asses off in the dirt.
Important factors that we considered when choosing a starter truck:
Truck purchase price: under $3000
Economy: around 20mpg
Decent street manners
Air conditioning, defrost and heater
Good budget-minded Prerunner platform--this was narrowed to: 2WD and 4X4 2.3 & 4.0 liter beamed Rangers, 84-95 22RE Toyotas, and all Tacomas.
Availability of used performance parts was of paramount importance. We wanted to source the requisite parts for the build on Craigslist, RDC classifieds, and the Leduc swapmeet to keep build costs reasonable.
Between the two of us, we had all the shocks and enough 1.75"x0.095" 4130 tube for a complete truck build.
We started perusing Craigslist for 84-04 Toyotas and 83-97 Rangers. Looked at quite a few rangers and toyotas. 80's toyotas are especially expensive. We found a factory 22RTE TURBO(!) Toyota truck in downtown LA listed for $4000. Significantly more than we were hoping to spend, but turbo! Test drove it--very fast and fun to drive. It was a tire smoking sonuvabitch! It came complete with a sweet ricer blow off valve and ghetto vatozone lowering blocks. We talked the El Salvadorian vatos down to $2000 and drove her home! Commence BROmance! Yes, gentle readers, a joint project—we'll see how this plays out…
Timeline: Mid-June 2015
My girlfriend got me some sweet '80's OP shorts to compliment my sweet '80's lowered toyota. What an awesome woman.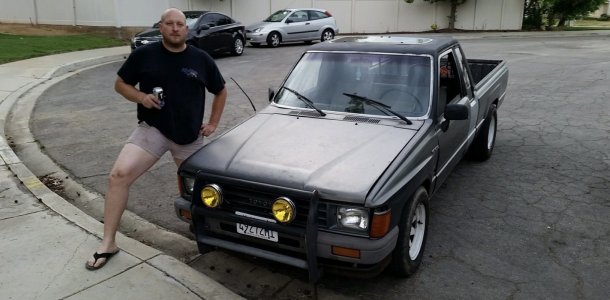 A keen observer will notice that the driver's side rear tire is in fact a trailer tire.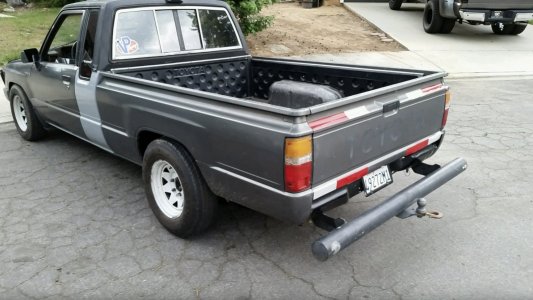 After selling the bumpers and cranking the torsion bars: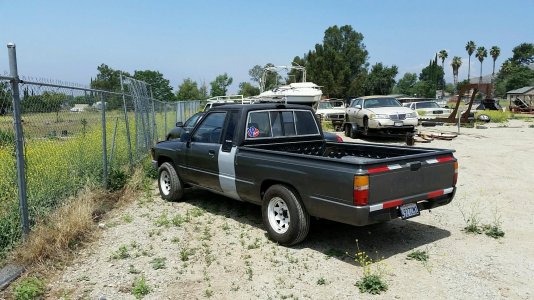 Last edited: