Joined

Apr 11, 2022
Messages

79
Location
Been a while since I posted anything up on here, my bad. I re-capped the ride on the 'gram but I forgot to put it on here.
*I took a ton of pics but the majority of them were somehow default-saved as HEIC files and this site doesnt support them.*
A few weeks ago I took a trip up to Pope Valley (outside of Napa) for a friends 40th Bday. I didnt take any pics on the way up because the I-5 is boring as fuck and who cares about seeing all of that. It took roughly 8.5hrs with gas and food stops to get from Phelan to Pope Valley. Anyways, my friend and I have known e/o since the 1st grade and he moved up there after HS, met a chick, got married, had kids, y'know, that ol chestnut. Theyre your normal norcal folks though - all about them thur diesels!!! (Yeehawwws in norcal noises). Heres a pano shot of his place. Its pretty rad. Forget about the house, hes got a 30x80 barn (tons of storage, pool table, guest rooms, etc), a 40x60 workshop, small pond, and enough acreage for raising livestock. Im jealous!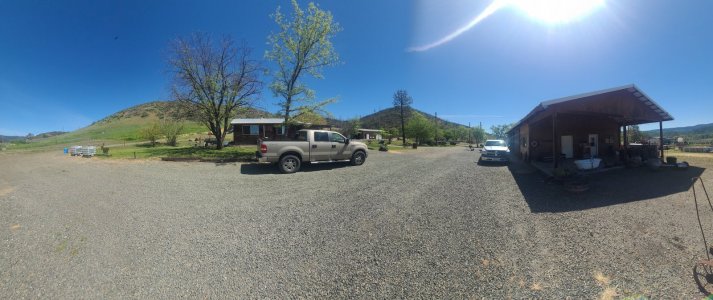 After hanging out with them for a couple of days I left after lunch and made an indirect route east towards south lake tahoe, through Gardnerville NV, then down 395 to bridgeport where I grabbed a cheap room for the night at the "Virginia creek settlement". The place was pretty decent for under $100 and theyve got a small trout farm right on the property too. Plus, theres a restaurant (you check-in to the room in the restaurant haha) there where I grabbed dinner before retreating back to the room to crash-out early.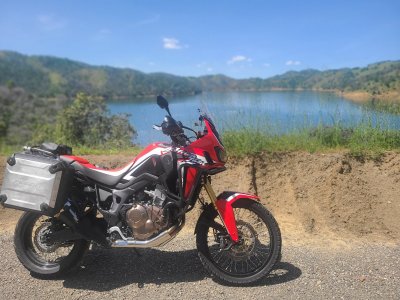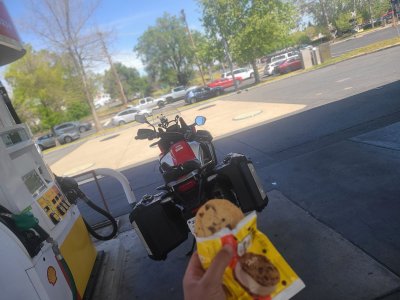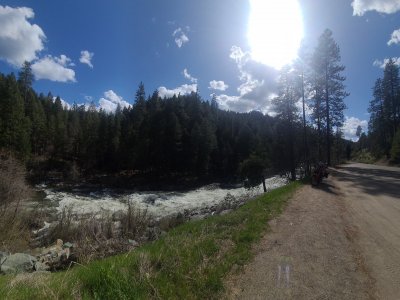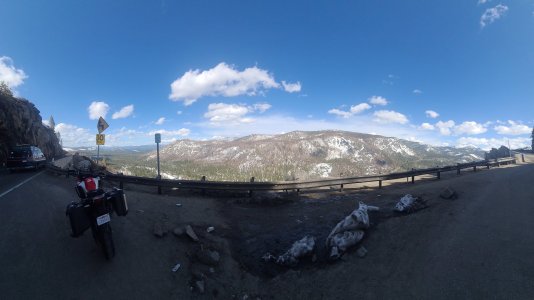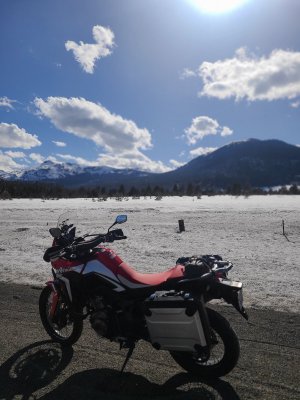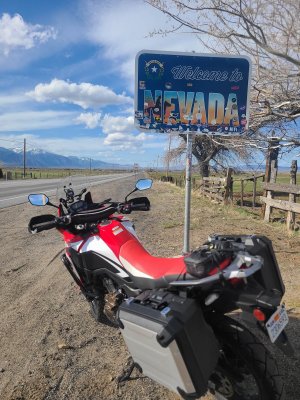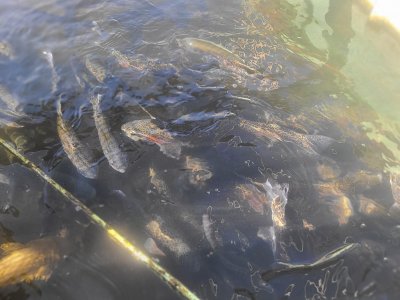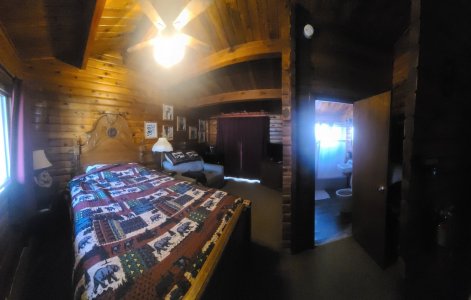 The next morning I woke up to a brisk 36* ambient air temperature. Not to worry, I was planning on doubling back a few miles and checking out the travertine hot springs.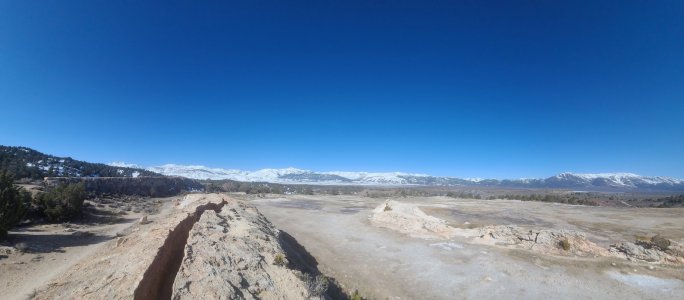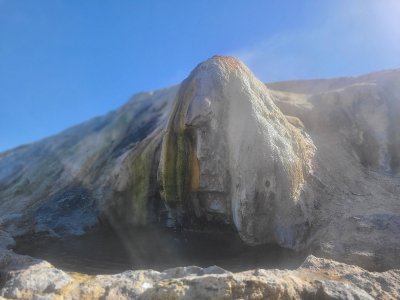 I wouldve jumped in but the place was FULL of fugly hippies and what I can only guess were "unhoused" tweakers, so I just snapped some pics of the springs and jumped back on the bike and pointed it south on Hwy 395.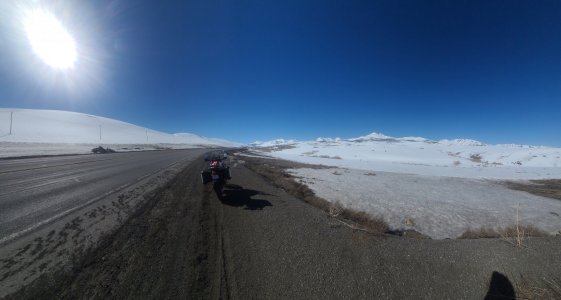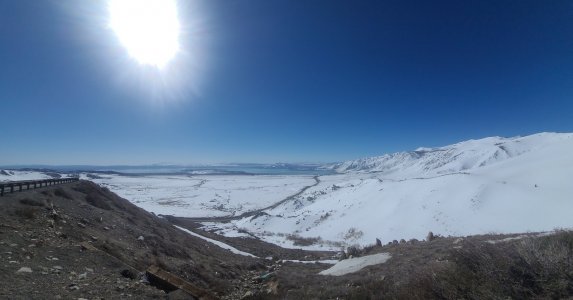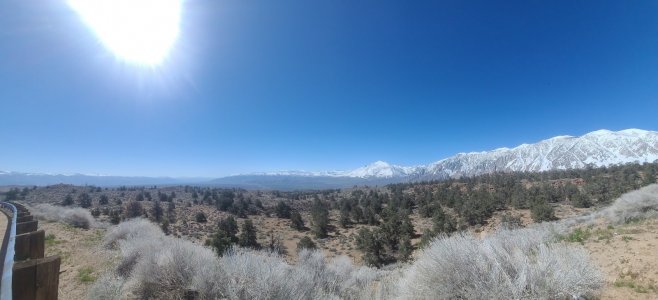 I stopped in Bishop for gas, Lone Pine for lunch, and grabbed a splash of gas in Pearsonville along the way home. The Owens Valley never disappoints and always has great views in every direction. Theyve had enough rain/snow/snowmelt up there that Owens Lake actually has water in it! First time Ive ever seen that.
Trip stats were as follows:
-Lowest elevation: 9ft
-Highest elevation: 7800ft
-Lowest temperature experienced: 36*
-Highest temperature experienced: 91*
-Worst mileage per tank: Roughly 26mpg
-Best mileage per tank: Roughly 62mpg
-Average trip MPG: 51mpg
-Food cost: $63 (plus stealing my friends food when I was there)
-Fuel cost: Just over $100
-Hotel: $95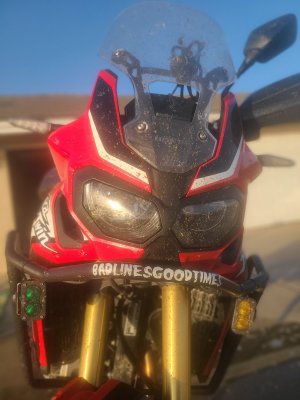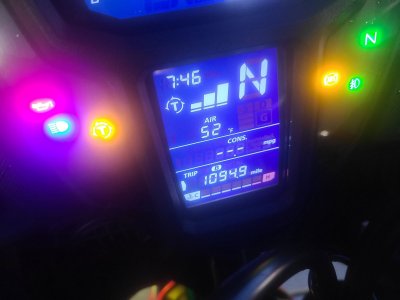 I slaughtered enough bugs that I feel I shouldve been given some kind of award. I still have blown-up yellow butterfly guts on my riding jacket sleeve. It was great to be back home and get the bike pressure washed off and chain lubed and be ready for the weekly commuting action again.
Until the next one!
Last edited: