Joined

Jun 13, 2023
Messages

9
Hello everybody - I'm new here Really enjoying the forum so far. This thread is to document my 1997 Ranger Build.
This Post is Phase 1 and 2 - Phase 3 is where the pre-runner stuff really takes shape.
She started life as super clean bone stock Seminole County forestry truck. I bought it in June 2018 with 70k miles. It was factory equipped with a 3.0 v6, auto trans, d28/35 hybrid front axle and 7.5 rear axle with 4.10 gears, limited slip rear and open front.
June 2018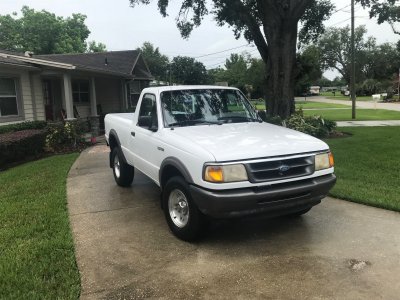 The week I brought it home I bought some rough country leveling front coils, maxxis 31in tires and and procomp steelies. I also added some cool guy smoked headlights and tail lights for some additional performance
July 2018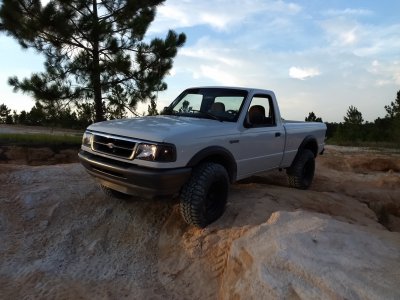 Honestly I should have left the truck like this longer. It was suprisingly capable, very reliable, and so clean for a 21 year old ranger. - Sigh
* Disclaimer I swear this truck is eventually a prerunner style truck and I am in the right thread section*
Coming from a Wrangler TJ that was Locked and on 35in MTR's I wanted more capability out of the little ranger.
My old TJ for Reference: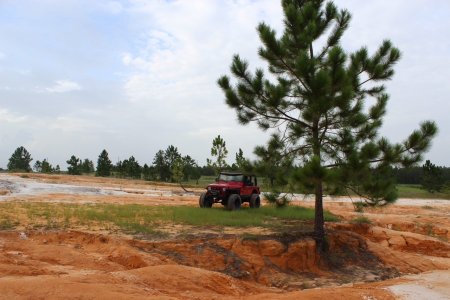 I was broke at the time and decided I would weld the front diff and add some manual hubs so I could unlock on the street and do things like - turn at all. (This was probably a mistake especially with that D28/35 axle.)
Well that worked awesome. Locked up front and L/S out back had me creepy crawling up the fun stuff again. Now I could really get myself in trouble and found myself needing a winch fairly often. No one made a winch bumper for these year trucks that did not stick out like a massive chin/underbite so I decided to tackle the first fabrication project on the truck with my little Forney flux welder. I found that superwinch made a budget friendly 8k winch that actually fit between the frame rails of the truck - Somthing that neither the badlands, smittybuilt or Warn VR series would do. I hacked down a generic winch plate to fit between the frame rails and welded some angle Iron to the frame horns to bolt the plate to.
November2018: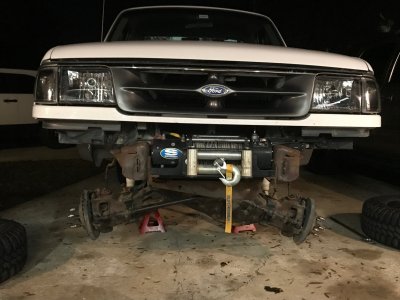 After this I got super busy with school, internships and work, and several major repairs/upgrades. So it took a while before I could finish the actual bumper part. I wheeled and Daily'd the truck bumper-less for about a year. On a 4 wheeling trip to the Gulches Off-road park In SC I snapped a d28 axleshaft where it necks down coming into the pumpkin. Anyone could have seen that coming.
Then came version 2.0 of the truck. I bought a used D35 with a 4in lift kit still attached to it, 4.56 gears and welded spider gears. See the pic below for the difference in shaft size from the hybrid axle to the true d35.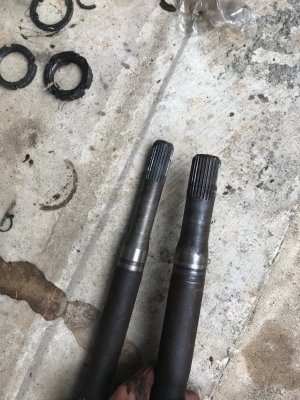 In addition I found a ranger 8.8 for sale and I totally rebuilt that with 4.56 gears and a powertrax no-slip locker new seals and bearings etc. I also added some longer beltech shackles to match the front lift. Here is the "I skipped leg day" look that I rolled with for many months. You can also see some of the Florida desert in the background.
February 2019: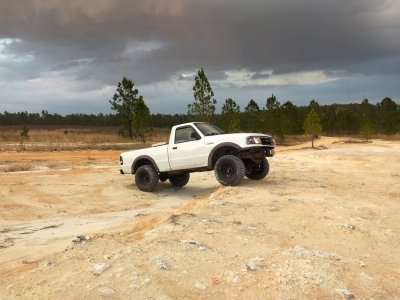 At this point the truck was sweet. The gears and lockers worked awesome, the 31's were too small, but I was never going to break another axle at that level. Sadly on a wheeling trip in Citrus WMA I managed to Hydrolock the 3.0. Sad... I didn't take the truck swimming or anything, just hit a puddle that was a little bigger than I thought, a little too fast and she locked up. Pulled the plugs with no success. In the words of Nick Sous, "Sucker was dead."
June 2019: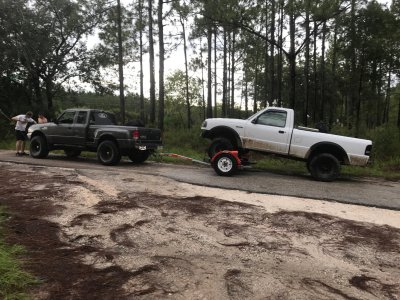 I was pretty convinced after this that I was going to go ahead and v8 swap the truck and judging by the title of my thread you would assume that I pulled the trigger on that...
Nope. Budget and timing forced me to go ahead and put another 3.0 back in it. I was looking for a 4.0 ohv but could not find one. Instead I bought this rolled ranger off FB Marketplace for $600 about three months after blowing it up.
September 2019: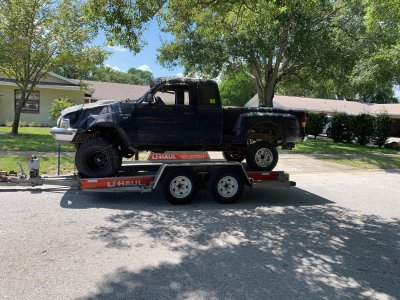 The blue truck had a manual trans so I decided to sell the old Auto. I put that manual trans and an extra pedal in the truck and went back to having fun.
In December of 2019 I decided to finally finish the tube bumper and I bought a set of cooper 35x12.50's for super cheap. The bumper is just black pipe from my metal yard. I was really happy with the appearance and performance of the truck at this time.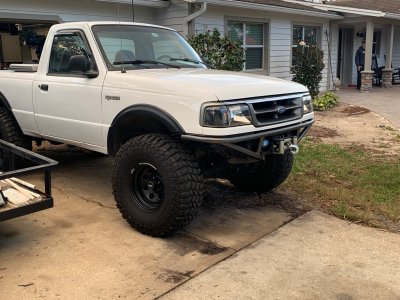 Again - I really should have left the truck at this stage, but I was still craving more. The front suspension was really stiff and not flexy at all. I knew the radius arms and front shocks were a big part of the problem. So I fabricated some crappy longer radius arms using the stock short arms and some 2in .250 wall DOM. I also threw some Bilstein 5100's on front and rear. Wow - what a difference in comfort and performance.
Mockup April 2020: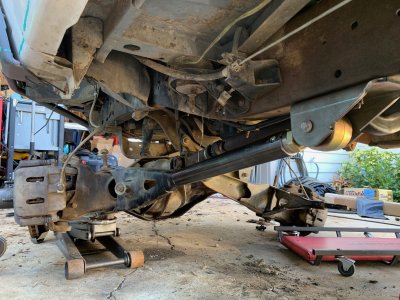 Little did I know this was only the beginning...