Joined

Apr 1, 2022
Messages

530
We rang in 2021 with a healthy dose of dirt miles. Kevco Engineering's family has a cabin in Landers that we used as a rally point.
Vehicles:
1. my Turboyota
2.
@Motiracer38
's Linked Toyota
3. KevcoEngineering's (HDLaser) linked Mezzanine Bronco
4. Fatty Matty's Solo Bronco
5. Fadi's Bitchin' street legal VW Buggy
Dirt Miles: 150
Planned Route:
Route with approximate mileage: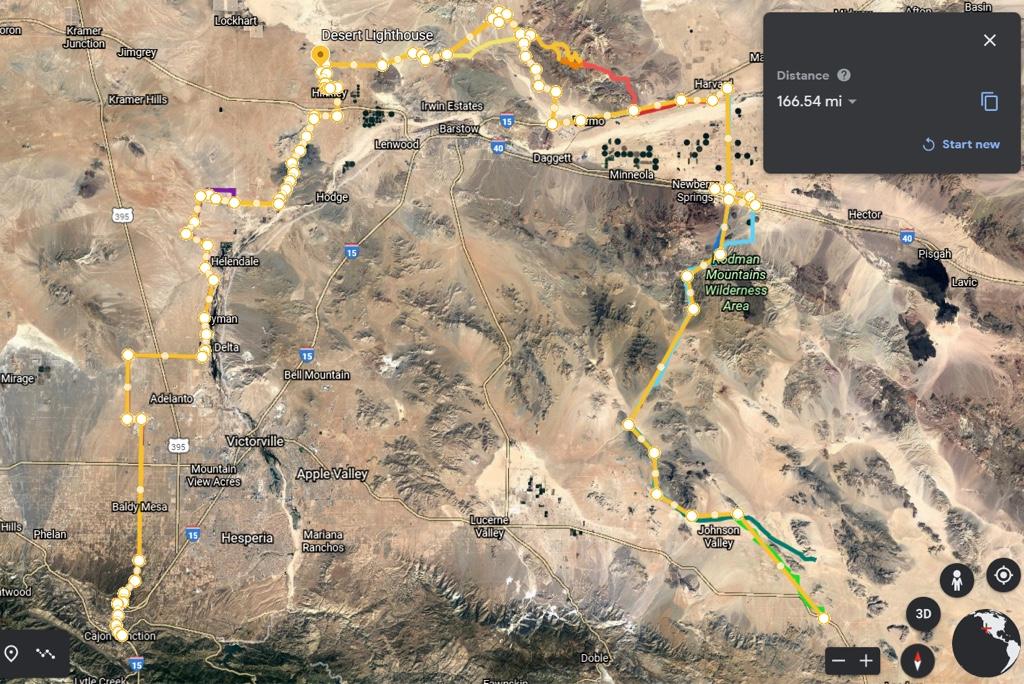 Arrived at the cabin fed, fueled, and fucking ready to rock at 6:45AM. My Turboyota was looking majestic. The sunrise was nice too, I suppose.
@Motiracer38
rolled in a few minutes after us—his presence was preceded by the roaring of his Lexus V8 on the 34 degree dezert dawn.
Everyone else got a slow start, so we cozied up to the fire and I cracked a breakfast beer at 6:55AM.
Smashed across Boone rd to the mini dunes, then crushed a fuckton of whoops across Bessemer Mine rd, hit 90mph on Soggy Dry Lake, attacked more whoops, and waited at the Transmission line rd that connects Cougar Buttes to The Lavic Lake volcanic field.
Had time for 3 beers while we waited. Hello AccidentSon.
The previous 20 miles of whoops resulted in a nasty fucking mess in my ice chest.
Casualties were as follows:
Beers: 3
Applesauces: 2
Rice crispies treats: 2
When Fatty Matty finally arrived, his forward progress came to a dusty and climactic halt in the silt beds.
Kevco extricated him:
Took Camp Rock rd North to Troy rd through some beautiful canyons. Passed a group of slow-moving "rigs" one of which was rocking 22" poverty wheels and low profile tires!! They were courteous and allowed all of us to blast past them.
Stopped at the gas line rd and admired the beauty.
The intersection of Troy rd(NR8435) and the gas line Rd(NR8440) has a gnarly blind crest with a chicane at the bottom. Sadly, the spot has seen some significant carnage. There is a plaque on one of the large boulders for someone who obviously didn't check up at the rise.
There were even some recent very deep panic deep skid mark ruts that ended in one of the huge boulders that appeared to be pushed forward by 10-15 feet. That was a day-ender for sure.