Joined

May 9, 2023
Messages

52
Was able to find a good deal on some lightly used Total Chaos UCAs on Race Dezert Classifieds so I scooped them up.
This was a turning point for Lafawnduh, as I had been holding off on purchasing wheels for as long as possible. Always felt like unless I was getting beadlocks there was no real reason to change out the stock wheels other than Starbucks Drive Thru cred. But with the purchase of these UCA's I now had to get different wheels. Apparently almost all aftermarket UCA's will rub at full lock with stock offset wheels. I had also talked with enough people about the pains of running beadlocks on a daily that it made me realize I was probably gonna have to get some Bro Lock wheels
A few days later a set of 4 Method 305s popped up on Craigslist for a decent price, they had some pretty used 37" tires on them. Realized it was a friend of a friend and started negotiations. Talked with my girlfriend and she agreed not to break up with me if I got fake beadlocks as long as I got real wheels eventually.
The seller tried to tell me to just throw the wheels on with the 37s...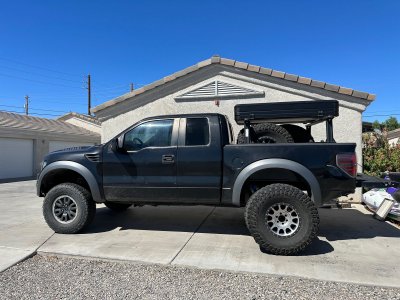 But they were huge and I have some sympathy for my 275k mile transmission
So I got the tires dismounted and sent the wheels to a local powder coater
Disco Purple Baby!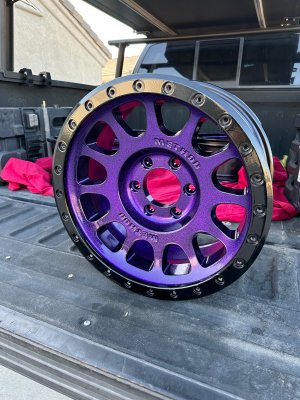 Had to go with something a bit different and stand out from all the black waptuh's with bronze methods lol.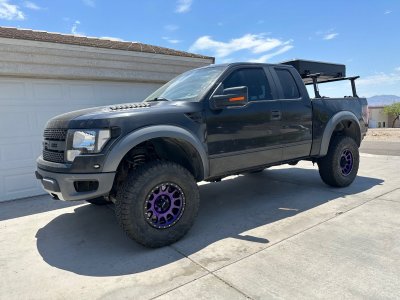 I have not installed the UCA's yet as I decided it was time to do a full refresh on the front end, Lafawnduh deserves it.
So I got bushings and a ball joint for the stock LCA. Also got the SPC Alignment Cam Kit. SVC's Labor Day Sale got me, and I ordered their tie rods. Just waiting for the tie rods to come in and the temp to hopefully drop below 100 to tear apart the front and give it a refresh.
I also installed an Icon Leaf Pack out back, went with the 10% heavier option right away because of the RTT. Much better than stock.