Joined

Feb 8, 2023
Messages

66
Location
Well guess I'll start this thread! I lost a lot of pics of both of these K5s but I'll highlight what I can and keep track of them better on here moving forward.
So here's where it all began for me, just a plain old base model 1990 blazer that I purchased right out of college. Found it outside of Montrose Colorado on Craigslist, 350 with a 4 speed manual. Knowing the manuals weren't very common in them, I bought it. Got it back to AZ where I slapped a cheap set of steel wheels on it with some BFGs... plus a few maintenance items like a radiator, clutch, and a flowmaster. From there I daily drove and wheeled the shit out of it. It was surprisingly capable in stock form even with open diffs, 3.08 gears, and a 30" tall tire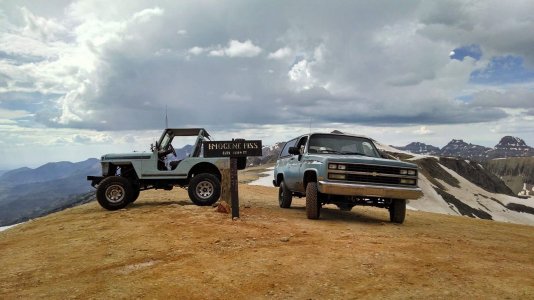 Then I decided to upgrade the rear end, I had sourced a cheap 9.5" semi float 6 lug 14 bolt for it so I posted the Stock 10 bolt for what seemed at the time a pretty high price. It sold right before my friends from Michigan pulled the trigger on a summer wheeling trip we had been talking about for years. So began the shit show of trying to get this thing "built" in a couple months prior to meeting them in the mountains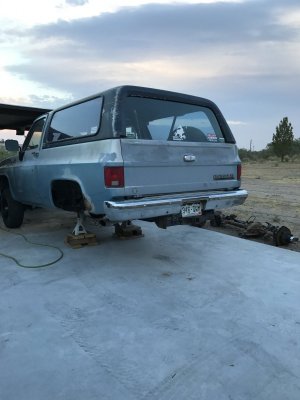 (Long boring detail section)
I really had no clue what I was doing. I just wanted it to "look cool" and ride smooth. So I called up Offroad Design and they did a solid job of getting me pointed in a direction with a limited budget and timeline. Ordered up a set of their custom leaf springs, extended brake lines, sway bar disconnects, shackles, and some Ford shock mounts for the front.
They wouldn't share with me the valving they liked on Bilstein shocks so I ordered a set of 14" 5100s from them. I ended up sending them back after looking up the valving and ordering the remote reservoir equivalent from summit. Working with limited space out back for shock mounting I was looking for every inch I could get while retaining the stock rear shock mounts. The 5165s kind of split the difference between a 12" and 14" 5100 at 13 or so inches but at a compressed length comparable to a 12" 5100.
As far as axles go, I left the stock 10 bolt front paired to the upgraded 14 bolt in the rear. Both got 3.42 gears since the 4spd doesn't have OD and I like to go 75 on the highway. I wasn't looking to go taller than a 33" anyway. Rear 14 bolt got a True-Trac, front got a regular clutch style posi (all I could get for that later series 10 bolt)
This ended up being such a time crunch that the springs wouldn't make it before the trip to Colorado. So I had the springs shipped to Ouray, and everything else shipped to AZ. I busted the stock springs down and cycled everything with the new shackles to get as close as I could for shock mounting and pinion angle before welding shock mounts and spring perched on the housing. Same story up front before mounting the shock brackets. Shock placement ended up working out but pinion angle didn't... so shims it was.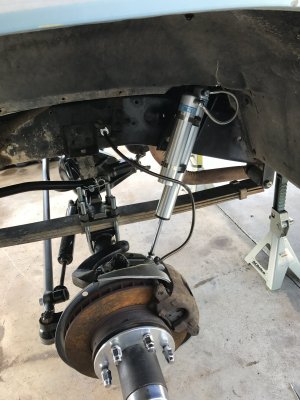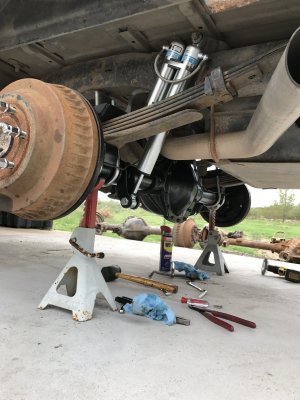 So at this point... on the trailer it went, and up to Colorado the next day. Springs showed up that afternoon at my parents place in Ouray so me and my buddy proceeded to drink beer and install them. I ground the shit out of the tabs on the front CV and otherwise hoped for the best with the stock drive shafts and hit the trails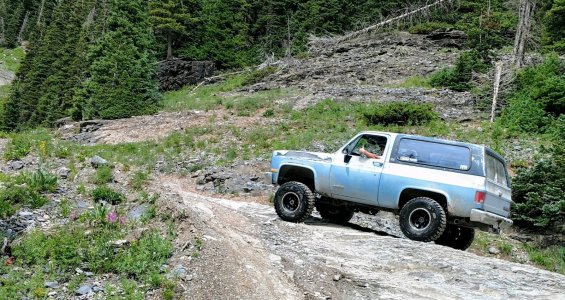 Drivelines popping and all it was a successful trip with not one single issue. As soon as I got back I did the fixed yoke mod on the NP241 so I could get measurements for a set of Tom Woods drive shafts. I ordered up a set of pinion shims for the back and got some axle offset plates for the front to help try and mitigate some of the tire rubbing issues (because I HAD to order 10 wides 🤦🏻‍♂️) After that it was once again a daily driver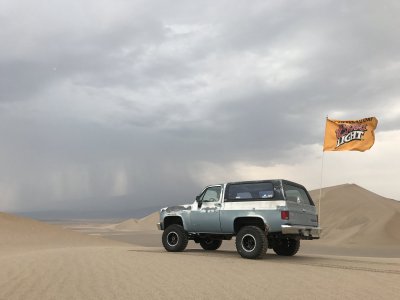 The scatter brained build actually proved itself to be an awesome all around use vehicle. I could drive it from AZ to wherever, wheel it, then drive it home. Tow the boat to the lake on the weekends and drive it to work during the week. It wouldn't break the bank in fuel and was fairly comfortable considering. That was until I got caught up in some shit weather in Colorado and a patch of black ice decided to end my fun with this truck.