Joined

May 5, 2022
Messages

35
Hey all! Long story short life happened and we ended up with a +1 to our family. Meaning a single cab Toyota pickup wasn't gunna cut it.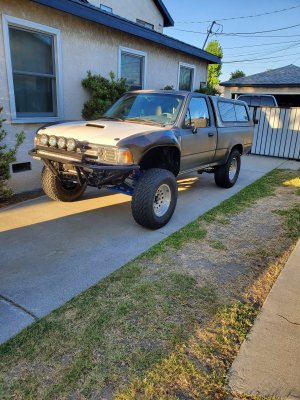 So I sold it to buy the bronco. Got the bronco for 2k so it's not perfect.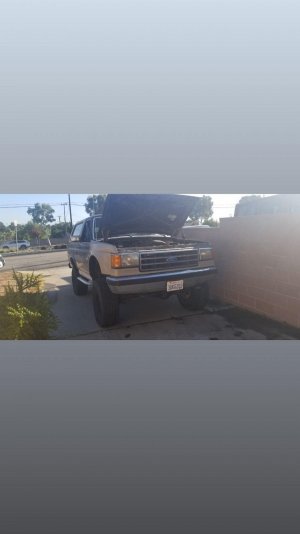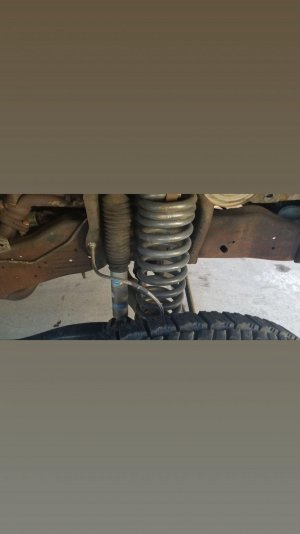 So it had some issues that made it not road worthy out of the driveway. I bought it in Whittier and luckily had a shop around the corner I could take it to and leave there till I made room at the house. I didn't know anything about broncos besides v8,space,8.8 rear ends and ttb. I didn't know the front diff wasn't supposed to have a drain. The drain leaked and while it was at the shop it drained out the diff fluid. One hub some how locked and Bing bang boom my ass ended up on a median on the 91/605 sliding from like 60mph to a screaming haul staring at a big rig. Scared the flying shit out of my pregnant wife so she wanted me to gothrough it completely. I of course said gladly. I didn't know good or bad on radius arms till I started digging in on why I had such a ride. Kevin Lowrance helped me figure the diff out and Chris vandenbush helped me with new radius arms. Here's the old ones check these.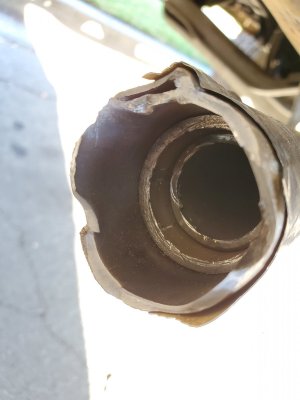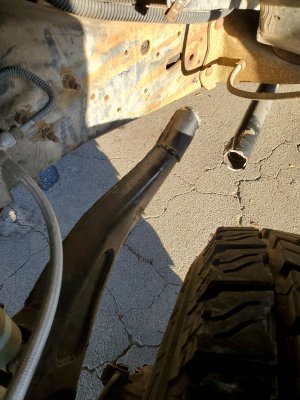 So I mean they look nicely welded and all that but obviously didn't work. My friend nick weigle had steering so I was able to start putting back together. At this time solo had their baja/black Friday deal and I had some budget.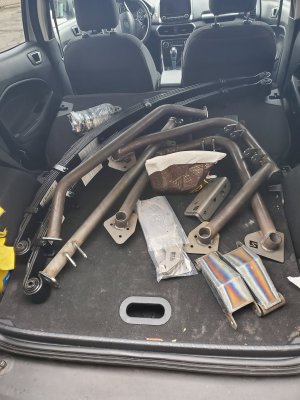 Picked up hoops,shackles,drop brackets,deavers,underbed shock hoops. I found out from another bronco guy a cheap way to a nice shock is a Polaris rzr 1000 rear shock is a 2.5" 12" stroke with long hose and comp adjusters. Found a rzr guy 20 mins away selling this set for 250$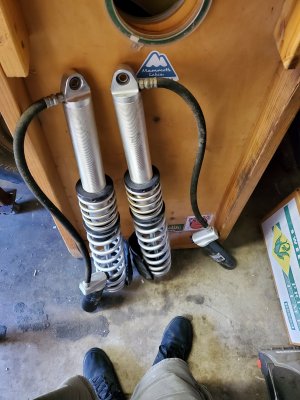 And a set of foa's brand new in box for the rear for 400$ I had the front rebuild and revalved for a bronco and fabricating I went.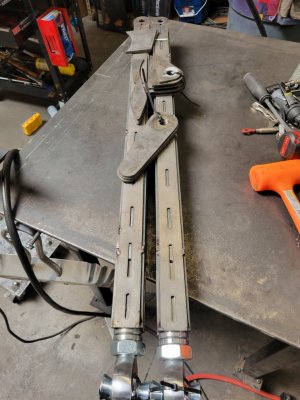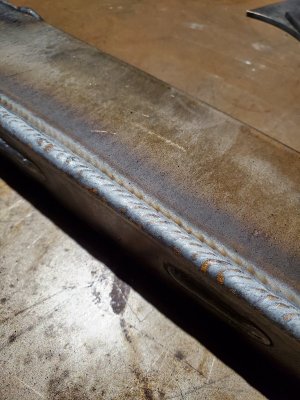 I will say I'm a cheap ass and I try and get the best bang for my buck. EVERYTHING I HAVE ACCOMPLISHED COULD NOT BE DONE WITHOUT THE HELP OF ALL MY FRIENDS. Had to say that Chris cut me the diy offroad radius arms and mounts and I used my harbor freight 110/220v multiprocess welder to weld these up. Doesn't look half bad for a whole spool of welding and not hitting duty cycle a million times.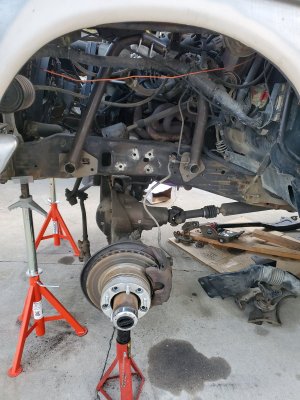 Started putting pieces together starting with the hoops. I hate ford rivets. But since the walker shocks have a shorter rodend and spring plate my tabs were a bit higher on the beam. Which works out since it has drop brackets from the old lift that have been plated over to reinforce.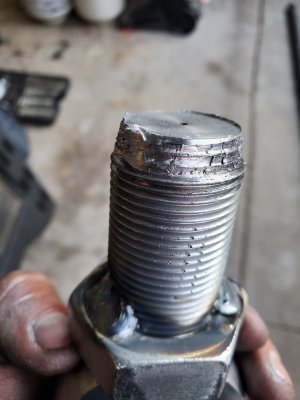 Things were going good then disaster struck. The Heiman bung combo that came from Barnes had one different heim. This one seemed like China and low and behold it folded a thread. Broke all kinds of stuff with my friend Brett Howerton trying to get it out and had to buy a new heim and tap and die. Man what an expensive mistake. Now I know chase welded threads with a tap no matter what. Either way I got the diy welded mounts on the beams and drilled the big ole holes for the radius arm frame side mounts