Joined

Apr 1, 2022
Messages

491
May 2021
I met @Do Dah in Adelanto on Thursday afternoon at 2:30 and we topped off fuel.
We hit the highway on a 90+ degree afternoon. My Turboyota was sputtering and missing above 3200rpms and running abnormally hot, so we stopped in Inyokern to top off fuel and add coolant.
There was some faint popping on deceleration that I thought could be caused by lean condition, so I richened up the fuel mixture by turning the AFM counter clockwise 2 notches.
Since my chinee turbo has been blowing some oil into the boost tubes, I thought that maybe the missing and hesitation could have been caused by burning oil, fouled plugs, and possibly a clogged catalytic converter. I unbolted one of the V-band clamps and loosened another and twisted the exhaust out of the way about 2 feet past the turbo. I secured the dangling exhaust with baling wire and we rolled onto the 395.
Fuckity fuck fuck, that wasn't the problem, so we drove the rest of the way with my truck now LOUDLY running like shit.
Arrived in Mammoth at 725PM
My pavement commute: 308 miles
Do dah's pavement commute: 375 miles
Dinner was served when we got there! We partook of a delectable fire-grilled taco feast on
@dose
and Fianna's patio:
After the taco feast, we decided to replace the Turboyota's fuel pump and fuel filter because I had the spare parts and had decided the sputtering and missing was probably a fuel delivery issue. We started crushing Keystone Lights and everyone pit crewed around my truck. @Do Dah made quick work of the fuel pump, but I was having a bitch of a time with the fuel filter. Do Dah finally got the stubborn banjo bolt off with a conglomeration of extensions and Universal joints from under the truck.
Test drove the truck and the new fuel pump and filter fixed the sputtering and missing problem! Great success!
We proceeded to drink beer until 1AM.
Friday morning Fianna prepared a fantastic breakfast and we rolled out at 9AM sharp.
Day 1 vehicle lineup:
1. Ian: King/Total Chaos 4th gen 4x4 4Runner
2. James/Brandi: Class 11, bitches!
3. @Do Dah /Shannan: 2WD Total Chaos &
Deaver F67 equipped 4Runner with Swayaways and Radflos bro
4.
@dose
/Fianna: Dusty's Total Chaos & linked 4x4 Tacoma with Kings, bro
5.My Turboyota with mismatched paint & tires but Kings, bro!
Hit the dirt about a half mile from Dusty's house. Trails twisted and snaked through the trees and treated us to some fun medium sized whoops. Dusty planned a badass route through some super awesome trails. Everyone was all smiles!
Crossed the 395 and headed East toward Hot Creek.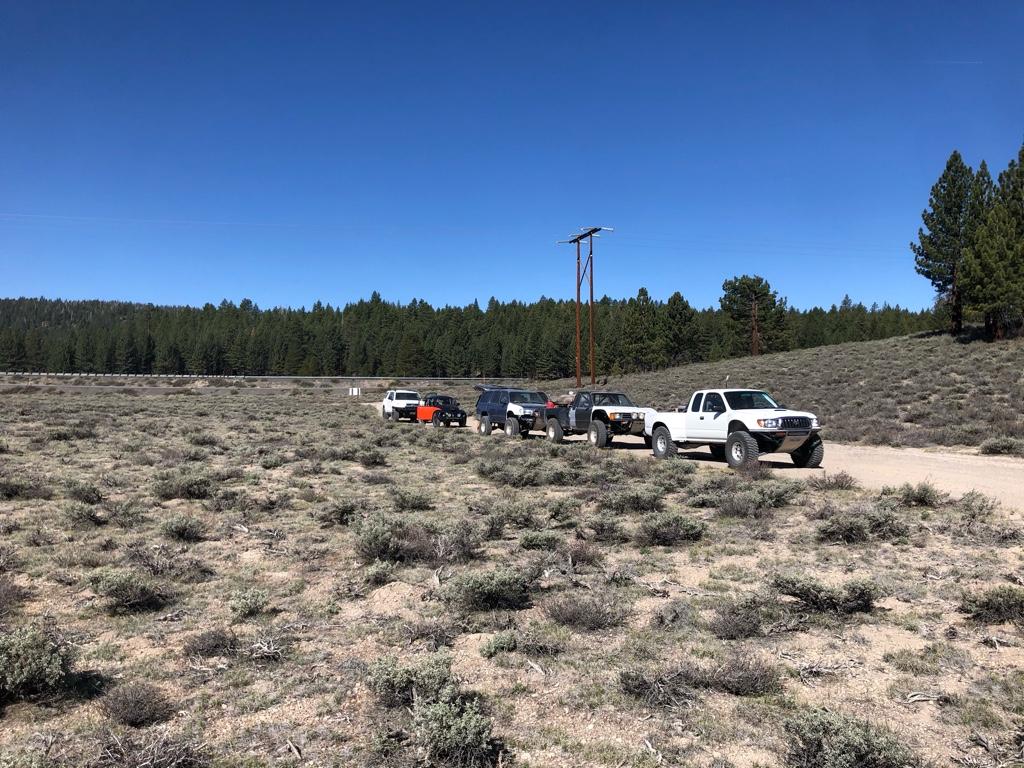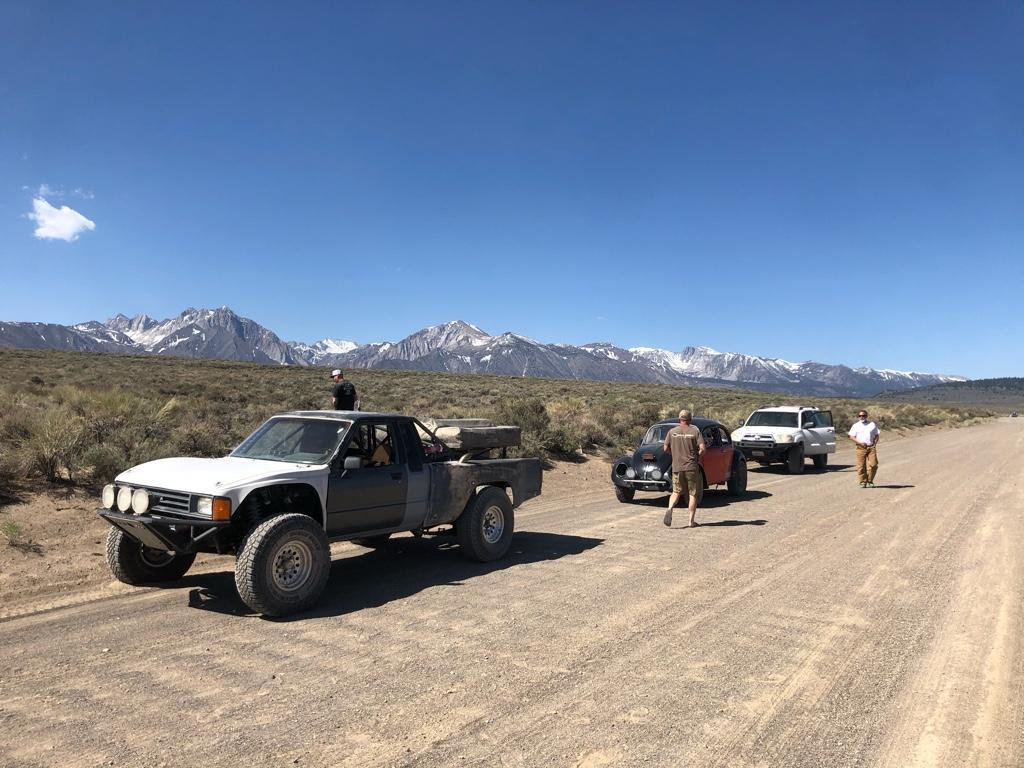 Hot creek:
After crossing the Hot Creek, we went up a long windy uphill trail(3S148) through the sagebrush that was completely destroyed by golf cart chatter. Fuck that chattery road. And fuck rhinos and RZRs.
The long sandy uphills on 2S164 got my toyota piping hot, so we stopped to add coolant and enjoy refreshments as we took in the gorgeous views.
Outskirts of Bishop on Casa Diablo Rd