Joined

Feb 9, 2023
Messages

3
Whats up guys! its been YEARS since I've been on a forum, I follow pretty much everyone in the DMC crew on Instagram so I naturally heard about this place on there. Was on DR since 2004 migrated to TacomaWorld when that died, then dabbled a bit on T4R.org. Anyway happy to see this place up and running, I'm going to have to remember how to use a forum lol probly won't be on here much but I'm going to try and make an effort to hangout and bullshit!
I'll hopefully be making it out to the cleandezert ocotillo wells cleanup presidents' weekend...maybe I'll see Ya around or vice versa. if everything goes as planned i'll be in my 4runner crusing around with the fam. I'll also be with my buddy who has a new bronco on 37's and with the first set of mcneil fenders and bedsides
heres the taco, its currently up on blocks and the chaos kit is taken off it cause i'll be swapping it onto my 4runner this weekend.
as it sat in the pic- 05 4banger TC LT 4x4, DMZ fab spring under with 16"triple bypasses (currently has 14"smoothies under the bed. The bedcage got cut up and thrown in the dumpster, long story short moved across country a few times and needed the bed space lol), 4.88's, locker, sliders, bumpers and whaatever else you see.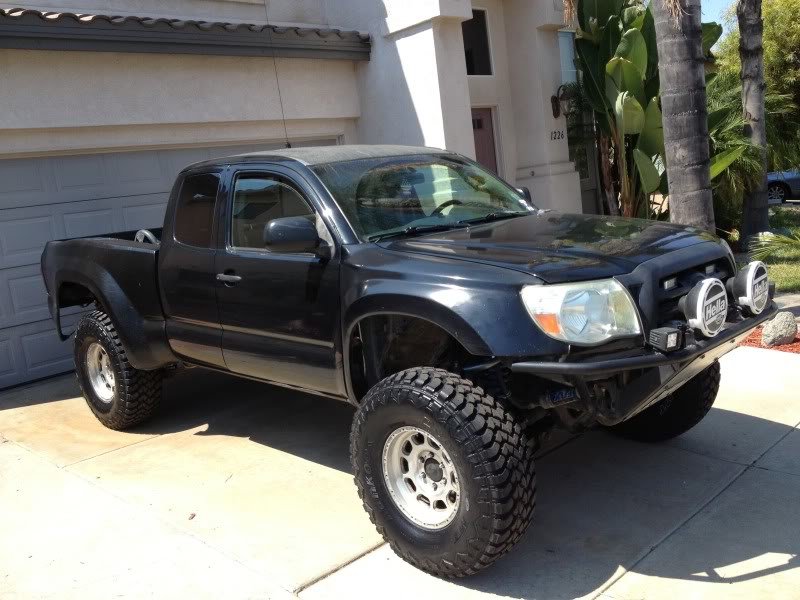 the 4runner the TC kit will be going on, pic taken on mojave rd, cant remember the exact location but it was up by a couple mines and old cabin thats upkept by a local offroad group.
05 V8, swapping out the midtravel for longtravel, demello bumper, c4fab sliders, smittybilt winch, diodedynamics fogs/rigid ind lightbar and other comfy desert cruiser things.