Joined

Sep 13, 2023
Messages

49
Location
Every year the local homies and I head up to Ashland, Oregon to help one of our buddies put on his enduro race that's part of the California Enduro Series(yes, even though it's in Oregon). We've actually been doing it so long that I can remember back when this race was a Super D instead of an enduro.
Generally we head up on a thursday, and start getting as many shuttles in as we can before Saturday's race. We have a pretty large group that goes up.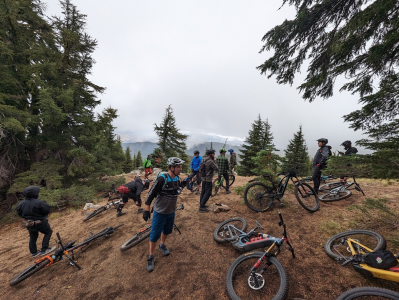 Just before we got there, the mountain got dumped on and the loam was all time.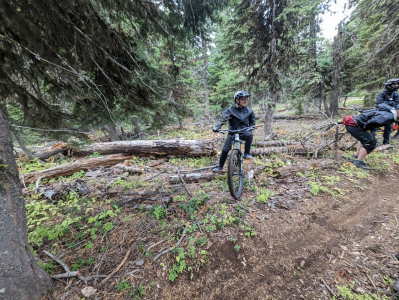 This time around I actually brought a gopro up with me and even though I felt like a huge nerd wearing it on my chest most of the time, it got some fun footage.
We rode some rocks right out of the gate and I wasn't sure how it was going to go for our buddy Nate. He's pretty new to riding and this section can get steep. I checked up to give him some room, but he handled it.
Friday we got some flowy-er trails in. Excuse the blabbering- this was after a few lunch beers.
It was all fun and games until our later shuttle on friday when the hail/rain truck showed up and dumped on the upper mountain.
View attachment 752706
After that it was fun and games with less traction. Luckily for everyone, I got to lead so I took them down the steepest chute I could find. Half way down, we actually passed the stream of water draining down the mountain. (caution- loud hooting and hollering and cussing)
They changed the trail up to my starting location this race, so my buddy and I stopped to talk to the land owner and scope out the road in that I was told was only do-able in a kabota. More on that later. Afterwards, we got caught in action by one of the race photographers taking pictures on practice day. If it wasn't obvious, I'm the dumbass in the blue who forgot his glvoes with the nerd-cam on my chest. No footage of this run because I already killed the battery: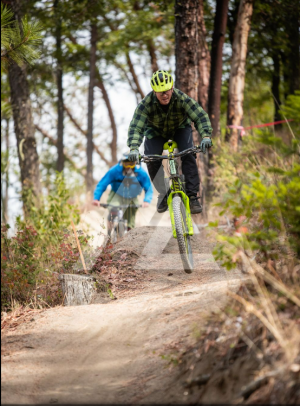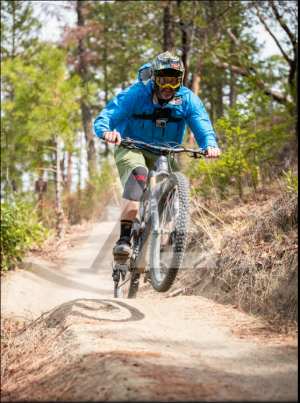 Saturday we met out with the local land owner who decided he wanted to have a race party at our stage. He invited all his friends up, fired up a "warming fire", would hand anyone who wanted it a chainless chainsaw to rev at the racers. Luckily the road in wasn't as bad as the organizer thought and I could get my truck in there with all the important race timing stuff such as snacks. On a side note, because I live in dry-ass California, that fire freaked me out at first, but this dude knew what he was doing. It had rained the night and early morning before we got there, and took a considerable amount of gasoline to get started. He timed it perfectly and his fire burned out right about the time the race was over. Consider me impressed.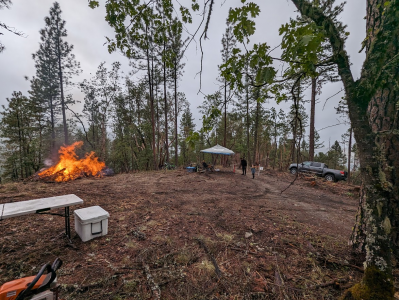 He also built this little cheese wedge style jump right out of the start. I told him I'd challenge the racers to see how far they could huck to flat, so he decided to throw a $100 bounty on it. Winning huck was 37 feet. The race actually doesn't stay on the fire road, they have to sprint up that hill after the huck, so most people were down to get as much speed into it as they could.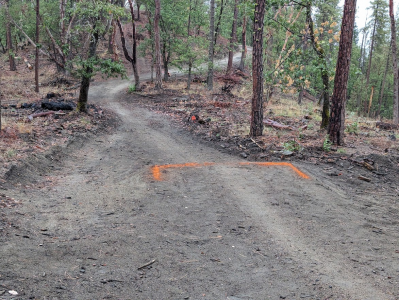 The morning after, we got one more shuttle in, jammed back to the hotel for a shower before check-out, and then loaded up for the 7 hour drive home. This is one of my favorite yearly trips. That morning the clouds finally cleared up enough to see Mt. Shasta in the background.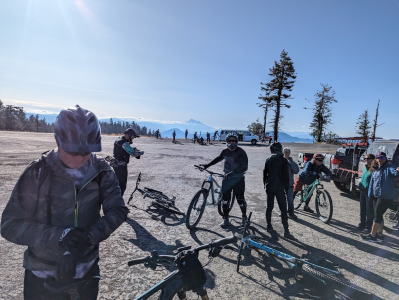 Good times(pun intended) over all.