Joined

Apr 1, 2022
Messages

208
So way back when, I use to have a 2009 polaris 800s (bought it new in 09) and kept it for a couple years till my gf (now wife) and I decided we needed a toy hauler to camp in. Sold the rzr to get a toy hauler and haul my Suzuki samurai around in in 2011 or 2012. After our wedding, I was itching to find a car. Well, finally in mid 2014, I had enough cash saved up to start looking for a low budget sand car. I was not about to get a sxs like everyone else.
Came across this rig for 8k with a 3.0 Honda v6, 091 trans and future kid seats. It needed a lot of love. Rear trailing arm geometry was wrong, used air bags instead of the coilovers it had in it, front end had a bunch of bump steer, rear kid seats sucked, and a bunch of little crap needed cleaning up. Sadly, I ain't got pics on my phone from when I first picked it up. I spent the next few weekends fixing the ass end up and getting it back working right. Also added b pillar bars, moved the shoulder harness bar up so they had proper angle, better mounted the rad, changed up the light bar, and took it to the cinders.
Had a good time but I didn't trust the type 2 cv's. So I converted to 930 and prepped for the dune season. Had ourselves a good time and was just tuning the shocks each time we went out.
Pic of the baja trip she went on in 2015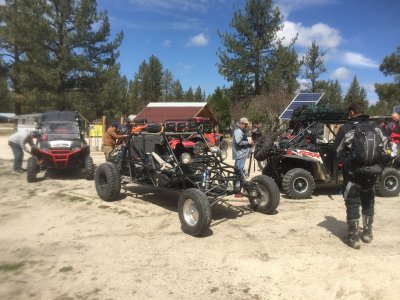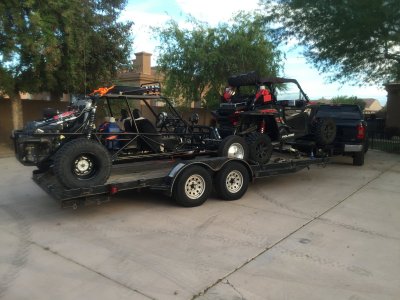 Over the next few years, this thing went through some changes. Got rid of the t1 axles/stub shafts for RBP micro stubs, 11" willwood rotors and 4 piston calipers and built my own 5x5 rear arms for more travel. Upgraded rear shocks from 2.0x14 foxes to 2.5x14 IBP foxes. Put an upgraded 091 trans in. Had kids so put a rear bench seat in which later changed to two JR style suspension seats. Upgraded fuel tank from 5 gal to 12 gal. Many different rear paddle combos and eventually settled on a 3.2 j32a1 engine for a little more power. We called it the mosquito because I'm always leading the group with some big fast cars. They have a hard time keeping up when I get in tighter stuff and this little fucker just rips around. She ran great for 3-4 years till I hurt 2nd gear and killed the ring/pinion coming off a blind drop out dune I didn't see. Also wound up cracking the chassis at the torsion tube.
So this bitch came back in for its final rendition. Hated the way the trans was mounted because the cv placement sucked. It killed cv angle and limited travel. Also wanted to get the 091 rebuilt but Jakey gay boy had posted up his dad was selling their mendi 2d trans. They made me a deal I couldn't say no too so next thing I know, I got a mendi goin in this shit box. So hacking off the ass end I went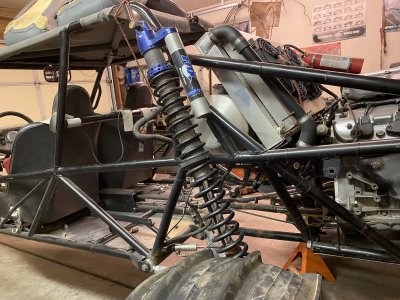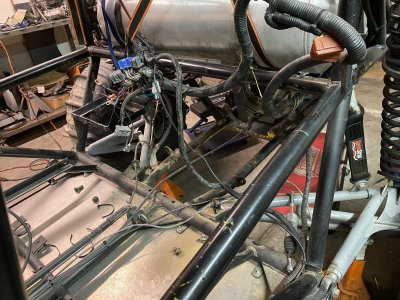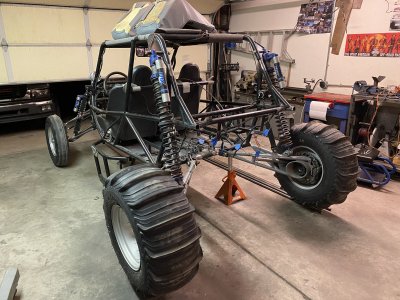 This was mid 2020 during the pandemic and I got the bright idea to sell our house and move so I had to get the fucker movable while holding the engine and trans. I dropped the cv so they were in line with the torsion tube, this helps greatly with cv angles through the cycle. Also angled the trans bell housing up 10* so that at full bump, the engine gives me some ground clearance back. I went from 14" of travel at 27* of max angle and 18* at ride height to 17" of travel (the narrower 2d helped) with max angle at 24* and ride height at 14-15*. Massive difference. Got the motor set in and some tubes burned in so she's moveable. You may notice something special as well in the last pic. Boost is more addicting than crack.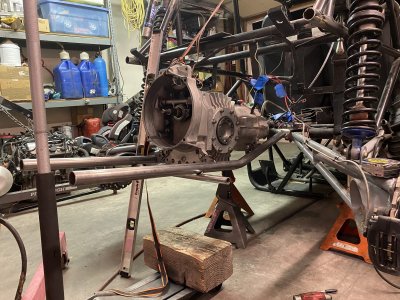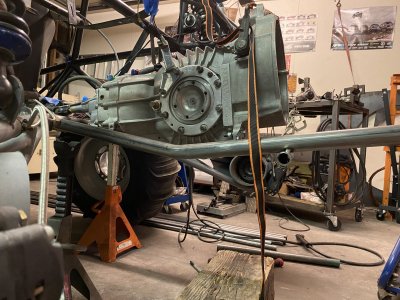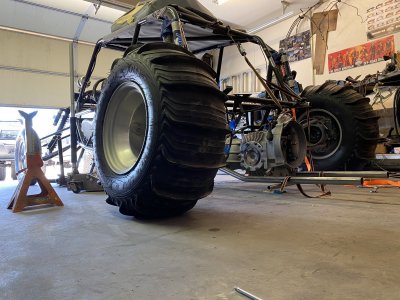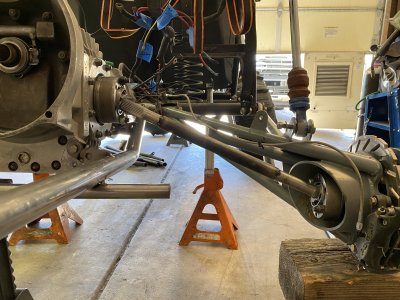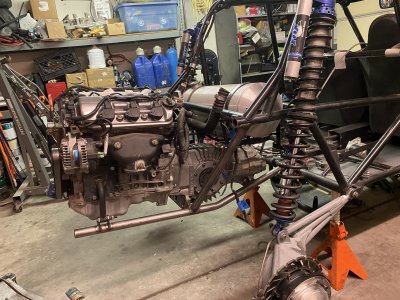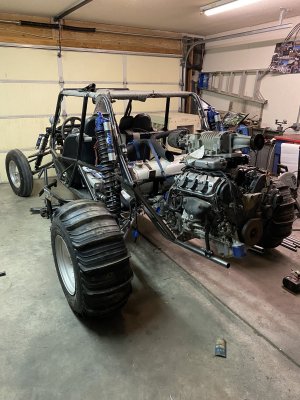 From there, we moved and it sat. Eventually I had my buddy rito build the back cage. Not because I couldn't but because I was on a time crunch for dune season and work was slammed. Wound up putting a cherocar rad in, moved it down below the kid seats, made hose guards should they come off, put the twin JR seats in back, new 5 point harnesses for them, aem plug and play computer under their seat, re-wired the whole car (still has the OG crap wiring in it), lowered the front seats 3 inches, new dash, supercharger installed, new exhaust, new shifter, and a bunch of other crap I missed I'm sure. Dynoed at 315hp to the wheels on 7psi with 91. Almost double of the 180ish rwhp it was making before.