Joined

Sep 4, 2023
Messages

4
Location
Before we start lets grab a bear this is going to be a ride.
Let's start this off with some information.
She is a 2013 F150 xlt 4x4 with a 5.0. She started life as an abused workaholic, hauling what ever was shoved or could be strapped into her back side. On February 16 ,2019 she was rescued from a shitty used car lot in Cherry Vally Ca. Where she had been surrounded by Jeeps of all shapes and sizes.
Just imagine being thrown away by your abusive ex, sitting there surrounded by all the new small dicked, body building toys She decided to replace you with. Man that could lead you to drink heavily.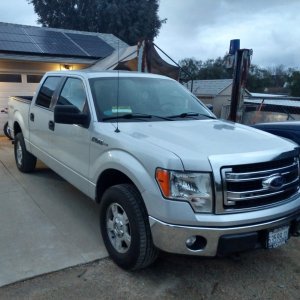 So after a quick test run and with the wife's consent I filled out the paperwork and brought her home. Now here is where we "Lilian and I" figure out what we needed to learn about each-other.
With my wife's guidance I decided that a basic lift and gear carrying system was in order. So we started off with a simple lift, gen1 raptor take off wheels and tires along with a custom bed rack,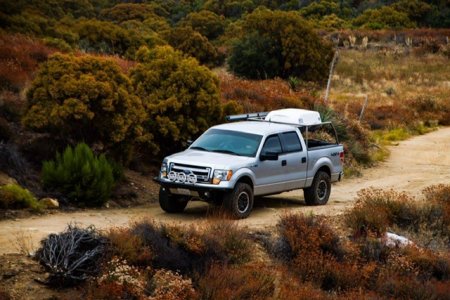 a front bumper with some lights. Oh and a sun shade. We were off to conquer the great unknown of local firer roads. Our first big adventure was in Landers Ca. We both found out that we did not like the direction we were going. After following a couple of Jeeps around not being able to keep up in the dirt. I hit the internet looking for information where I came across Raptor Swapping F150's. The hunt was on and soon all the replacement parts were found 500$ later the transformation was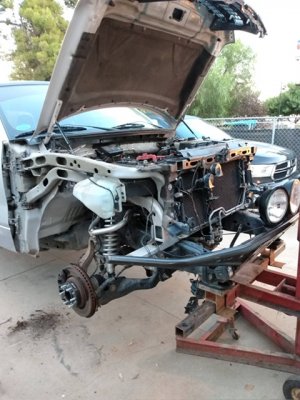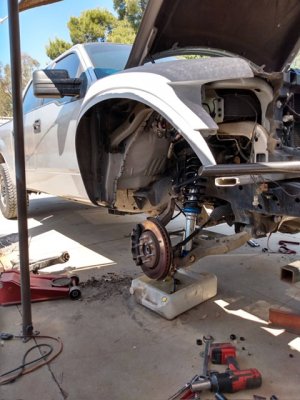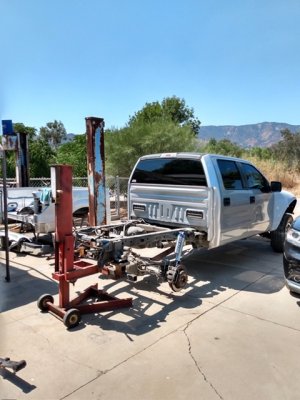 started. At first she wanted to be a plus size girl with some Raptor +4 front and rear glass. Hopping that one day we could afford the cost of full size implants. We road around "like a chick stuffing her bra" for a few month.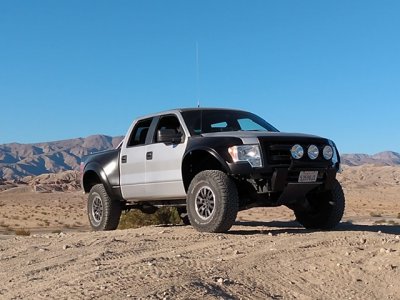 While at work on day I was heading down the 215 south and spotted a bead-lock sitting on the side of the road. Just so happed to be the weekend after KOH. I went back and picked up the wheel and sent out some texts asking around for the owner. After posting it on sell off-road it was returned to the owners brother , who hooked us up with some new bling to roll on KMC wheels. We also found a friend to chase in Ocotillo.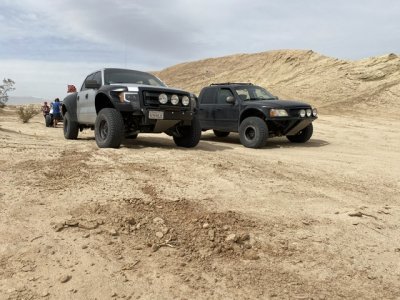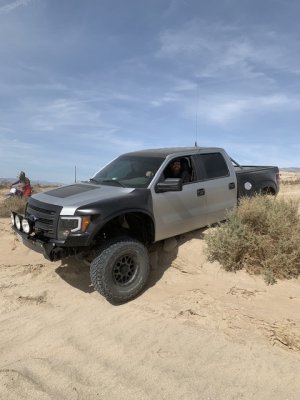 Of course she was still a one wheel wonder and got hung up. That changed when she was fitted with a set of 4.88s and a spartan locker out back. Her shoes were replaced at the same time with some BFG "37" really there 35s. We all know how that works. She was also fitted with a set of Deaver rear springs (raptor +4s) and extended +2 shackles who knows ho made them.
We rocked her look for a year or two the hole time thinking " they're laughing at you, there all laughing at us" So we decided to stop stuffing and fitted her with some appropriate size garments.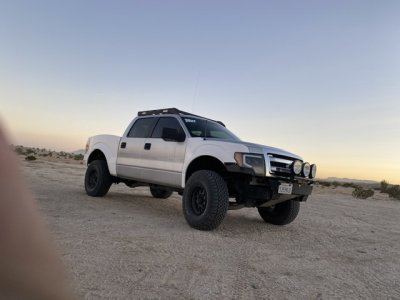 We also added a roof rack, Icom race radio and Lorance 540 later switching to Ipad going back and forth between LeadNav and Onx Off-road.
As of now we're looking into taking it to the next level with a complete shock package , replacing the upper control arm and starting the chase rack.
Thanks for stopping by and having a beer. Hope to see you next time.